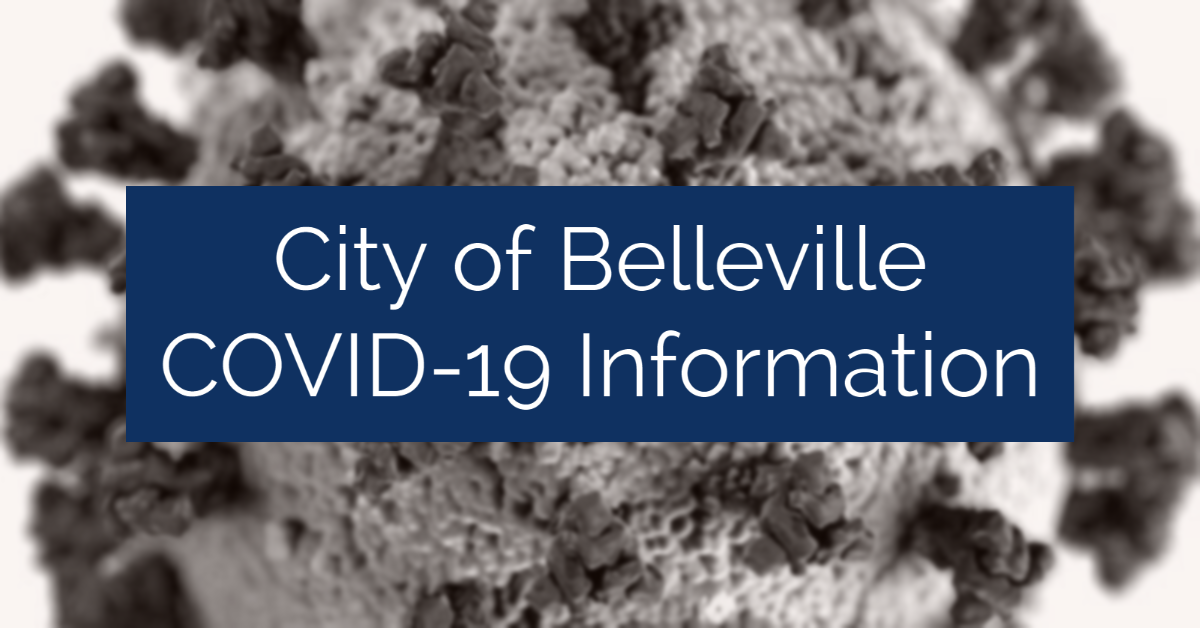 As the COVID-19 pandemic continues to evolve, the City of Belleville is taking action to ensure that the safety of our residents is at the forefront. We would like to reiterate to our residents that these are preventative measures. Efforts like these are being taken across the Province and the more we can do to reduce potential exposure, the better. We continue to follow the lead of our local health officials and our governments to ensure we are doing all that we can to protect our community. For up-to-date information on the goverments' response to COVID-19, please visit the federal and provincial governments' websites. For ongoing COVID-19 updates in our community and ways to best protect you and your family, please visit Hastings Prince Edward Public Health's website.
Impacts to City Services
COVID-19 Information
Hastings Prince Edward Public Health continues to monitor the COVID-19 pandemic locally and beyond. For information on testing, ways to protect yourself, local cases and more, please visit their 2019 Novel Coronavirus (COVID-19) page. On April 23, they launched an online dashboard to provide residents with case-specific details as they track them. Every effort is being made to update the list daily by 11 a.m.
Facility Closures
Public Works Building
Belleville Water Building
City Hall is now open on an appointment-only basis. Residents are encouraged to make an appointment prior to arriving at City Hall. Department-specific contact information is available online. Those with further questions are encourage to contact customer service at 613-968-6481.
To help reduce the risk of exposure to, and spread of COVID-19, the City of Belleville's Recreation, Culture & Community Services department has put the following policy in place:
Visitors, participants, coaches and team personnel residing in an Orange (Restrict), Red (Control) or Grey (Lockdown) Zone shall not be permitted to use any Recreation, Culture & Community Services facility.
This includes, but is not limited to: recreation and culture activities, rentals, City of Belleville led initiatives at the Quinte Sports & Wellness Centre, Glanmore National Historic Site, Parkdale Community Centre and Community Archives.
The policy will take effect immediately and remain in effect until further notice.
Cancellations
The following services will be suspended until further notice:
Drop-in programs
Family Dental Centre Indoor Track
What's Open
City Hall is currently open to the public from 9 a.m. to 3 p.m., Monday through Friday. Whenever possible, please consider doing business online or over the phone. All visitors to City Hall are required to wear a non-medical mask or face covering (see below). A greeter will ensure that a limited number of people will be admitted into the building at a time to maintain safe physical distances. Please stay home if you are feeling ill or have been exposed to someone with COVID-19.
Hastings Prince Edward Public Health has implemented a new face covering regulation in Hastings Prince Edward Counties. Individuals entering enclosed indoor premises must be wearing non-medical masks/face coverings. A face covering means a non-medical mask or other face coverings such as a bandana, a scarf or cloth (including hijab and niqab) that covers the mouth, and nose ensuring a barrier that limits community transmission. Certain exemptions may apply. The full release and an FAQ page are available on the HPE Public Health website.
The Belleville Farmers Market is now open to the public. Visit their website and social media channels for updates on safety protocols in place and hours of operation.
In an effort to support restaurants remaining open at this time, the City of Belleville has put together two GIS-based platforms to enable residents to quickly determine which restaurants are open for business and where they are located within the city. The first is an online map, where people will be able to search for restaurants near their location. The second is a storyboard, where restaurants will be listed alphabetically.
United Way Hastings & Prince Edward have put together a great list of grocery stores offering pick-up, delivery and senior hours. Find the updated list for each region on their website.
Health Services
There are a number of clinics offering online and telehealth services during this time for those who wish to remain at home:
Great Lakes Walk-In Clinic Belleville - Telemedicine (nurse and teleconference with doctor) - 613-967-9595
Good Doctors Walk-In Clinic - Telemedicine (nurse and teleconference with doctor) - 613-779-0990
Kente OTN - Telemedicine (nurse and teleconference with doctor) - 613-779-5787
MCI The Doctor's Office (Toronto) - Online and Telemedicine - mcithedoctorsoffice.ca
Addictions and Mental Health Services Hastings Prince Edward is operating an Addictions and Mental Health Pandemic Helpline for those experiencing difficulties coping with their mental health or substance use issues during this time. The line will be open from 9 a.m. to 6 p.m. Monday through Friday and those wishing to connect with a professional can do so by calling 613-967-4737.
The Crisis Intervention Centre out of Quinte Healthcare Corp Belleville General Hospital, continues to operate its 24-hour Counselling Line at 613-969-7400, ext. 2753 or toll-free at 1-888-757-7766.
Children's Mental Health Services is running phone-in clinics from 8:30 a.m. to 4:30 p.m. every Wednesday and Thursday at 613-966-3100. They also have a 24/7 crisis line available at 613-966-3100. Youth 18+ in crisis are asked to call Quinte Health Care at 613-969-7400. Current CMHS clients should contact their worker directly or by using the staff directory at 613-966-3100. If you are not sure who your worker is, someone can connect you.
COVID-19 Archives
Are you writing a diary or taking photographs during the current pandemic situation? Archives around the world are working to collect their community's stories and experiences of the COVID-19 epidemic and lockdown, and the Community Archives of Belleville and Hastings County is no exception. If you would like to add your materials to the Community Archives collection to form part of our area's record of these events, we want to assure you that there is a safe home for your materials right here in Belleville.
We can keep items closed to the public for a particular period of time if you would like us to, or we can make them available immediately to share: it is entirely up to you. Get in touch with our archivist, Amanda Hill, at archives@cabhc.ca if you have any questions about donating materials, or if you would like to send us your digital photographs, memoir, or other record documenting the experience of COVID-19 in our community.
Transit
Belleville Transit has resumed fare collection and front-door boarding. Fare can be purchased at participating locations throughout the city or online using the B-TAP mobile pay app. We also accept cash fare (coins only) or tickets.
Transit is an essential service for our community and has continued to run throughout the COVID-19 pandemic. Belleville Transit has returned to its regular scheduled service. Routes and schedules are available on the Transit page on the City's website. Passengers will be able to use the TRANSIT app to track the weekday fixed-route buses in real time.
If you are ill or exhibiting any symptoms, please do not board the bus. Residents are reminded to practice recommended hygiene etiquette while utilizing transit including:
Cough and sneeze into the bend of your arm, not into your hand
Practice social distancing where possible by maintaining a distance of two metres
Stay home when you are sick and avoid contact with other people until your symptoms are gone
Washing hands as soon as possible or once you've reached your destination
Parks
City bylaw officers are working in cooperation with Belleville Police Service to ensure the rules are being followed and will issue fines or more severe penalties to anyone not doing so.
Those with concerns regarding these restrictions not being followed are encouraged to contact:
Belleville Police Service:
City Bylaw Enforcement:
Utilities
The COVID-19 Energy Assistance Program (CEAP) provides a one time, on-bill credit to eligible residential electricity and natural gas customers to help them catch up on their energy bills and resume regular payments. See if you qualify here: elexiconenergy.com
The COVID-19 Energy Assistance Program for Small Business (CEAP-SB) is a new program to help small businesses and registered charities with their energy bills. See if you qualify here: elexiconenergy.com
If you are concerned about paying your Elexicon bill, are experiencing hardship or have been impacted by the COVID-19 pandemic, please call them at 905-420-8440 or 1-888-420-0070 to discuss extended bill payment options and financial assistance programs.
Waste
Green Bin
Please do not include loose tissues and paper towel in the green bin. For the safety of collectors, we encourage residents to use a liner for their compost bins and bag all waste that you put in the green bin.
Recycling
Residents are reminded that only clean, recyclable materials are accepted in the blue box program. If any of the following items are in your blue box, it will NOT be collected:
Kleenex
Tissues
Sanitary wipes (i.e. baby wipes, alcohol wipes)
Medical waste of any kind (sharps, gloves, face mask, medication)
Food waste
Quinte Waste Solutions is asking that residents in self-isolation either store recyclables until the isolation period has ended or carefully place all material into garbage bags and utilize their regular garbage collection day for disposal. For more information and further updates, visit the Quinte Waste Solutions website.
Garbage
The City of Belleville would like to advise residents that tags are now required for all bags placed to the curb for pick-up.
Residents reminded to follow the maximum lifts per week for bags with tags as well as our rules & guidelines for garbage collection. Tags for any addition bags can now be purchased online.
Residents are asked to bag all waste and not place loose materials in your garbage bin.
Hazardous Waste
The Hazardous Waste Depot has resumed summer hours!
For the month of June, the Depot will be open EVERY SATURDAY 9 a.m.- 4 p.m.
Tuesdays 1 – 6 p.m.
Wednesdays & Thursdays 9 a.m. – 4 p.m.
First Saturday of the month 9 a.m. – 4 p.m.
Visit quinterecycling.org for more information.
Leaf & Yard Waste
The Leaf and Yard Waste Depot located at 75 Wallbridge Cres. is open. Curbside collection dates will remain the same.
Bulky Item Collection
Bulky item collection will continue as usual each Friday. Please note this service is separate from regular garbage collection and is NOT FREE. Pick-up can be arranged online before 3 p.m. on Wednesdays for pick-up that Friday. Having trouble access the form? Contact us at 613-967-3275.
Parking
Paid parking has resumed throughout the city. Monthly permits are available at City Hall Monday through Friday from 9 a.m. to 3 p.m.
The City of Belleville offers a number of payment options for parking tickets that do not require in-person payment.
Online Services
During this time, residents are encouraged to access online City services:
Payments
Small business and registered charity customers impacted by the COVID-19 pandemic can now apply for the COVID-19 Energy Assistance Program for Small Business (CEAP-SB). Launched by the Government of Ontario and delivered by Elexicon Energy, the program provides a one time, on-bill credit to customers to help them catch up on their energy bills and resume regular payments.
The Government of Ontario is making $9 million available to support residential customers struggling to pay their energy bills because of COVID-19. The COVID-19 Energy Assistance Program (CEAP) provides a one-time, on-bill credit to eligible residential electricity and natural gas customers to help them catch up on their energy bills and resume regular payments. For more information, including eligibility requirements and on-bill credit amounts, visit oeb.ca/ceap.
The three remaining 2020 tax instalment payment dates have been deferred. The first interim instalment due date was paid on Feb. 26. The second interim instalment due date originally scheduled for April 28 was deferred to June 26. The first final instalment due date originally scheduled for June 26 was due August 27. The second final instalment due date originally scheduled for Sept. 28 is now due Oct. 28. Those with monthly payment plans who are concerned about payment at this time are asked to contact the City directly.
Other Payment Options
The following options are available for property taxes, water utility bills, accounts receivable invoices, parking tickets and dog tags:
Financial Institution Payments – Telephone / Online Banking
Pre-authorized Payment Plans
Online Services - Credit Card Payments
Mail
Drop Box
Please visit our Payment Options page for further details.
Employment
Looking for employment? Trying to fill positions due to high demand? Find the latest update on the City's Work in Belleville program.
Avoiding Back-Ups
The Canadian Water and Wastewater Association is reminding residents to think about what they flush down their toilets. Find their latest release for more information.