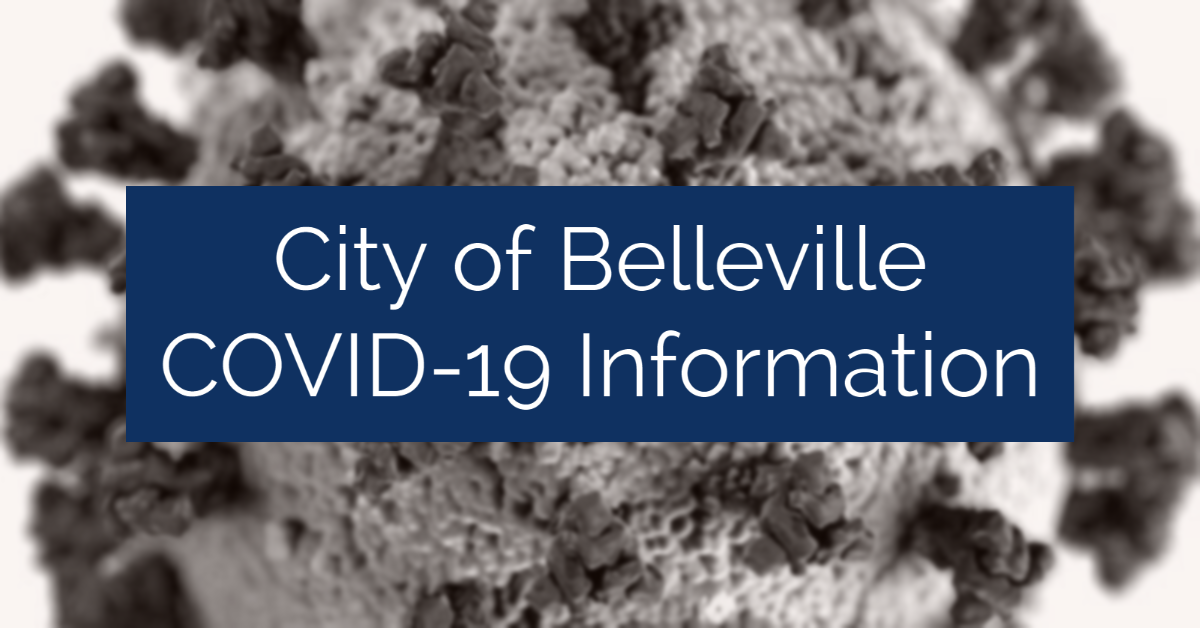 As the COVID-19 pandemic continues to evolve, the City of Belleville is taking action to ensure that the safety of our residents is at the forefront. We continue to follow the lead of our local health officials and our governments to ensure we are doing all that we can to protect our community. For up-to-date information on the governments' response to COVID-19, please visit the federal and provincial governments' websites. For ongoing COVID-19 updates in our community and ways to best protect you and your family, please visit Hastings Prince Edward Public Health's website.
Impacts to City Services
COVID-19 Information
Hastings Prince Edward Public Health continues to monitor the COVID-19 pandemic locally and beyond. For information on testing, ways to protect yourself, local cases and more, please visit their 2019 Novel Coronavirus (COVID-19) page. The online dashboard provides residents with case-specific details as they track them. Every effort is being made to update the list Tuesdays and Thursdays each week.
Facility Updates
City Hall has returned to regular 8:30 a.m. to 4:30 p.m. business hours. Security staff will continue to screen visitors prior to entry and monitor numbers to ensure physical distancing. Those who can are encouraged to continue doing business online or over the phone whenever possible and stay home if feeling unwell.
A reminder that Marriage License and Commissioner of Oath services are available to City residents only. Please contact the Clerk's Office at 613-967-3228 prior to arriving at City Hall to confirm you have all the required documentation.
The Quinte Sports & Wellness Centre (QSWC) has begun to implement their resumption of services. Guests are reminded to continue practising regular hand hygiene and stay home if feeling unwell. More information and ongoing updates are available on QSWC's website.
Glanmore National Historic Site has reopened to the public. Residents are encouraged book tickets online and to stay tuned to the Museum's website for future updates.
The John M. Parrott Gallery has reopened to the public. More information is available online.
The Belleville Public Library will return to full operations beginning March 1. Patrons will no longer be asked to limit their stay in the building, computer use will return to a two hour per day maximum and study desks will no longer be under a time limit or booking system. Indoor programs and events will also return to the Library and the Gallery, including childrens' storytimes, art workshops and March Break programming. All programs will require advance registration. More information is available on Library's website.
The Community Archives of Belleville and Hastings County has reopened to the public.
Cancellations
All Belleville Public Library programming will return beginning March 1.
What's Open
Take-away lunches (soup, sandwich, fruit, snack, drink) are being distributed at Bridge Street United Church everyday from 11:30 a.m. to 1 p.m., free of charge to anyone in need. Distribution takes place via their 60 Bridge St. East entrance. The 'TGIF' frozen meal pick-up program will continue every Friday during lunch distribution from 11:30 a.m. to 1 p.m. A new drop-in program is also now being offered at the church from 8:30 a.m. to 3 p.m. daily for those who would like to access showers, washrooms and laundry facilities, public health services and refreshments. Policies and procedures are in place to reduce the risk of transmission for guests, volunteers and staff.
United Way Hastings & Prince Edward have put together a great list of grocery stores offering pick-up, delivery and senior hours. Find the updated list for each region on their website.
Health Services
There are a number of clinics offering online and telehealth services during this time for those who wish to remain at home:
Telemed Belleville - Online and Telemedicine (phone or video call with doctor or specialist) - 613-968-3838 or https://www.telemedmd.ca/
Great Lakes Walk-In Clinic Belleville - Telemedicine (nurse and teleconference with doctor) - 613-967-9595
Good Doctors Walk-In Clinic - Telemedicine (nurse and teleconference with doctor) - 613-779-0990
MCI The Doctor's Office (Toronto) - Online and Telemedicine - mcithedoctorsoffice.ca
Addictions and Mental Health Services Hastings Prince Edward is operating an Addictions and Mental Health Pandemic Helpline for those experiencing difficulties coping with their mental health or substance use issues during this time. The line will be open from 9 a.m. to 6 p.m. Monday through Friday and those wishing to connect with a professional can do so by calling 613-967-4737.
The Crisis Intervention Centre out of Quinte Healthcare Corp Belleville General Hospital, continues to operate its 24-hour Counselling Line at 613-969-7400, ext. 2753 or toll-free at 1-888-757-7766.
Children's Mental Health Services is running phone-in clinics from 8:30 a.m. to 4:30 p.m. every Wednesday and Thursday at 613-966-3100. They also have a 24/7 crisis line available at 613-966-3100. Youth 18+ in crisis are asked to call Quinte Health Care at 613-969-7400. Current CMHS clients should contact their worker directly or by using the staff directory at 613-966-3100. If you are not sure who your worker is, someone can connect you.
COVID-19 Archives
Are you writing a diary or taking photographs during the current pandemic situation? Archives around the world are working to collect their community's stories and experiences of the COVID-19 epidemic and lockdown, and the Community Archives of Belleville and Hastings County is no exception. If you would like to add your materials to the Community Archives collection to form part of our area's record of these events, we want to assure you that there is a safe home for your materials right here in Belleville.
We can keep items closed to the public for a particular period of time if you would like us to, or we can make them available immediately to share: it is entirely up to you. Get in touch with our archivist, Amanda Hill, at archives@cabhc.ca if you have any questions about donating materials, or if you would like to send us your digital photographs, memoir, or other record documenting the experience of COVID-19 in our community.
Transit
Belleville Transit has resumed fare collection and front-door boarding. Masks remain a requirement for using public transit. Routes and schedules are available on the Transit page on the City's website.
If you are ill or exhibiting any symptoms, please do not board the bus. Residents are reminded to practice recommended hygiene etiquette while utilizing transit including:
Wear a mask or face covering at all times
Cough and sneeze into the bend of your arm, not into your hand
Stay home when you are sick and avoid contact with other people until your symptoms are gone
Washing hands as soon as possible or once you've reached your destination
Parks
City parks and playgrounds remain open at this time. Residents are encouraged to use trails and outdoor spaces safely while practising physical distancing.
Utilities
The COVID-19 Energy Assistance Program (CEAP) provides a one time, on-bill credit to eligible residential electricity and natural gas customers to help them catch up on their energy bills and resume regular payments. See if you qualify here: elexiconenergy.com
The COVID-19 Energy Assistance Program for Small Business (CEAP-SB) is a new program to help small businesses and registered charities with their energy bills. See if you qualify here: elexiconenergy.com
If you are concerned about paying your Elexicon bill, are experiencing hardship or have been impacted by the COVID-19 pandemic, please call them at 905-420-8440 or 1-888-420-0070 to discuss extended bill payment options and financial assistance programs.
Waste
Green Bin
Please do not include loose tissues and paper towel in the green bin. For the safety of collectors, we encourage residents to use a liner for their compost bins and bag all waste that you put in the green bin.
Recycling
Residents are reminded that only clean, recyclable materials are accepted in the blue box program. If any of the following items are in your blue box, it will NOT be collected:
Kleenex
Tissues
Sanitary wipes (i.e. baby wipes, alcohol wipes)
Medical waste of any kind (sharps, gloves, face mask, medication)
Food waste
Quinte Waste Solutions is asking that residents in self-isolation either store recyclables until the isolation period has ended or carefully place all material into garbage bags and utilize their regular garbage collection day for disposal. For more information and further updates, visit the Quinte Waste Solutions website.
Garbage
The City of Belleville would like to advise residents that tags are required for all bags placed to the curb for pick-up. Tags can now be purchased online. Residents are asked to bag all waste and not place loose materials in your garbage bin.
Leaf & Yard Waste
The Leaf and Yard Waste Depot located at 75 Wallbridge Cres. is now open for the season. More information including hours of operation, is available online.
Bulky Item Collection
Bulky item collection will continue as usual. Pick-up can be arranged online. Having trouble access the form? Contact us at 613-967-3275.
Parking
Paid parking has resumed throughout the city. Monthly permits are available at City Hall Monday through Friday from 9 a.m. to 3 p.m.
The City of Belleville offers a number of payment options for parking tickets that do not require in-person payment.
Online Services
During this time, residents are encouraged to access online City services:
Payments
Applications are open for the new Ontario Small Business Support Grant. The grant will provide up to $20,000 for eligible small businesses affected by the Provincewide Shutdown, with a minimum of $10,000. Ontario.ca/COVIDsupport
Small business and registered charity customers impacted by the COVID-19 pandemic can now apply for the COVID-19 Energy Assistance Program for Small Business (CEAP-SB). Launched by the Government of Ontario and delivered by Elexicon Energy, the program provides a one time, on-bill credit to customers to help them catch up on their energy bills and resume regular payments.
The Government of Ontario is making $9 million available to support residential customers struggling to pay their energy bills because of COVID-19. The COVID-19 Energy Assistance Program (CEAP) provides a one-time, on-bill credit to eligible residential electricity and natural gas customers to help them catch up on their energy bills and resume regular payments. For more information, including eligibility requirements and on-bill credit amounts, visit oeb.ca/ceap.
Other Payment Options
The following options are available for property taxes, water utility bills, accounts receivable invoices, parking tickets and dog tags:
Financial Institution Payments – Telephone / Online Banking
Pre-authorized Payment Plans
Online Services - Credit Card Payments
Mail
Drop Box
Please visit our Payment Options page for further details.
Employment
Looking for employment? Trying to fill positions due to high demand? Find the latest update on the City's Work in Belleville program.
Avoiding Back-Ups
The Canadian Water and Wastewater Association is reminding residents to think about what they flush down their toilets. Find their latest release for more information.