Be Prepared to Be Empowered
Be Prepared to Be Challenged
Be Prepared to Change the Way You See Yourself
Camp Molly will be held July 13 to 16 at the Hastings & Prince Edward Training Center, Trenton.
Applications for Camp Molly Quinte 2023 are now closed! Be sure to follow along on the Camp Molly website and follow Camp Molly Quinte on Facebook, Twitter and Instagram for future updates.

Welcome to Camp Molly!
The City of Belleville Fire and Emergency Services is partnering with Quinte West Fire Rescue and the Hastings & Prince Edward Training Center to present this unique opportunity for 30 young women aged 15 to 18 years to learn what it's like to have a career in the fire services – beyond fire suppression.
Watch the video for a glimpse of what to expect.
The health and safety of participants and staff is our key priority and we are committed to taking all necessary steps to ensure participants' safety. Camp Molly follows the direction and guidance of Hastings and Prince Edward Counties Health Unit and will ensure all applicable COVID-19 protocols are in place including wearing of masks and physical distancing, as necessary.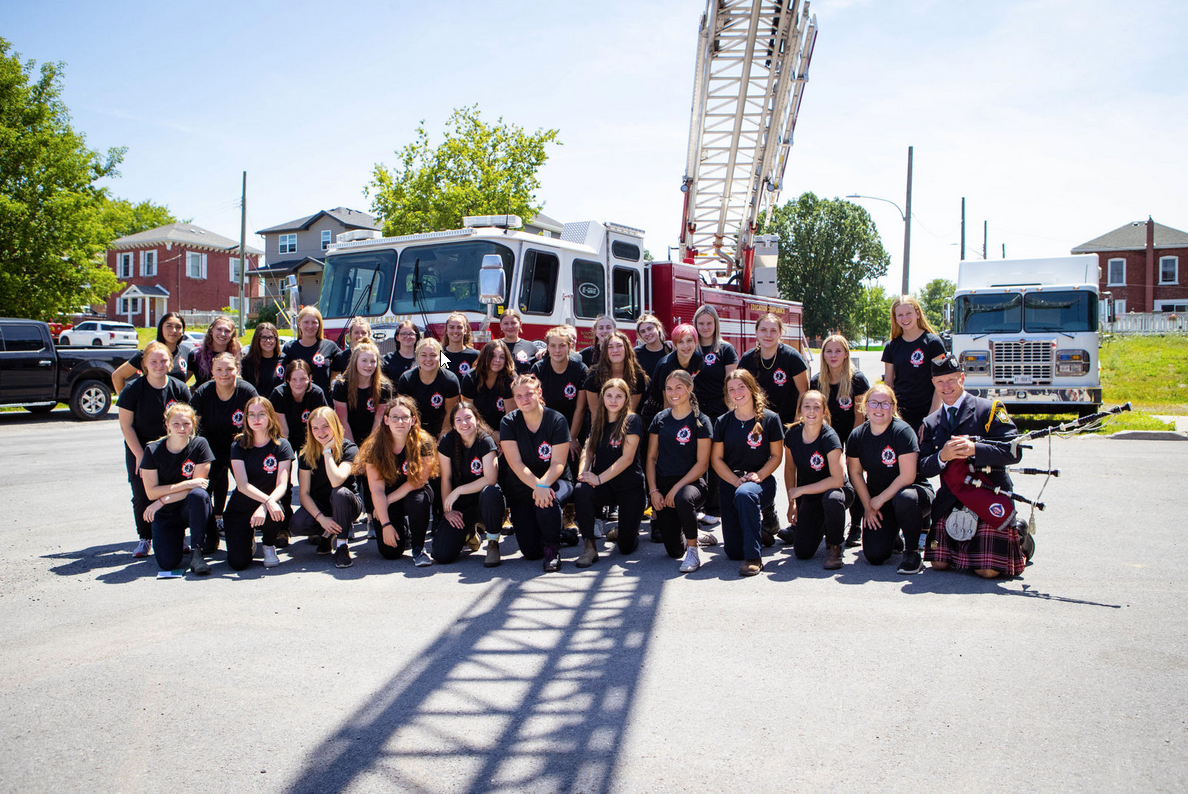 Are you ready to attend Camp Molly?
This camp will provide young women who may not have considered the possibility of pursuing a career in the fire services with an introduction into various career opportunities available, including:
Fire suppression
Training
Communications
Fire prevention
Fire investigations
Public education
Public information and media relations
Fire Code enforcement
Participants will also have an opportunity to perform many firefighting tasks, including:
Basic firefighting skills
Catching fire hydrants
Managing hose lines
Live fire demonstrations
Personal protective equipment orientation
Use of Self-Contained Breathing Apparatus (SCBA)
Search and rescue operations
Auto extrication rescues
Use of aerial and ground ladders
Forcible entry procedures
Go water rescue
Combat Challenge competition
Minimum Qualifications
To qualify to attend Camp Molly you must:
identify as female, aged 15 to 18 years old on July 13, 2023,
be a resident of the Municipality of Quinte West or the City of Belleville,
be in good physical condition and have a positive attitude,
be able to supply your own CSA safety footwear (all other personal protective equipment will be supplied to the participants),
be able to provide your own transportation to and from Belleville Fire and Emergency Services Headquarters located at 60 Bettes Street, City of Belleville,
possess a valid provincial Health Card prior to July 13, 2023 - the first day of Camp Molly,
complete the online application form before the application deadline, which includes a typed essay (no more than 500 words) describing why you would like to attend the camp this year and what qualities you believe someone in the fire service should possess,
and,
be committed to attend all Camp Molly activities and required dates as follows:

gear fitting (date TBD) - Allow yourself a 30-minute period to size your required firefighting gear anytime between 4:30 and 7 p.m. (Located at BFES Station 1, 60 Bettes St., Belleville),
orientation and station tour (date TBD) - (Located at BFES Station 1, 60 Bettes St., Belleville),
Camp dates – July 13 to 16 8 a.m. to 4:30 p.m.
If you have gener.al inquiries about Camp Molly, please email.