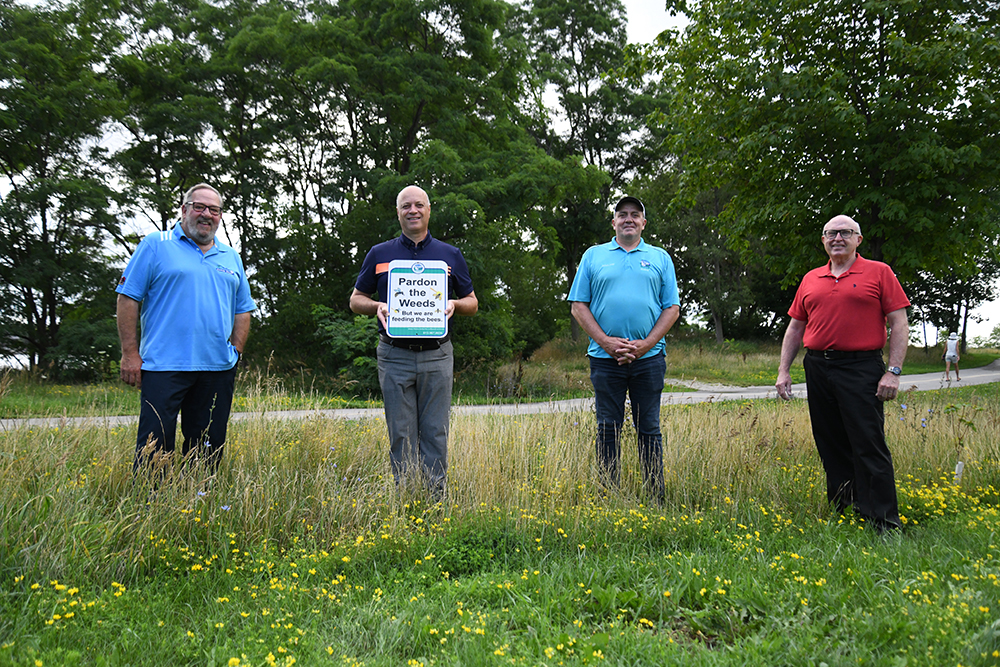 Mayor Mitch Panciuk, Councillor Chris Malette and Councillor Bill Sandison of the Green Task Force were pleased to join Operations Planning and Development Manager, Transportation & Operations Services Rowland Cave-Browne-Cave for the official launch of the City's new "Let it Grow" campaign in an effort to support pollinators in our parks and throughout the city.
While City staff will continue to mow the grass in most areas of the City, strategic locations have been identified in select City parks and public spaces to let the grass grow. These locations will be marked with "Pardon the weeds, we're feeding the bees!" signage, and include East Zwick's Park where trees were recently planted through the Rotary Loves Trees campaign.
"Leaving certain areas unmanaged will give native plants a chance to grow and flower, which attracts pollinators like butterflies, bees and hummingbirds," says Councillor Chris Malette, Chair of the City of Belleville's Green Task Force. "The flowers feed the pollinators and ultimately, the pollinators help feed us."
The "Let it Grow" idea was brought to the Green Task Force by a local Belleville resident in 2020 and echoed calls from other residents for the City to help protect pollinators in Belleville parks and public spaces. Supportive of the concept, the committee asked staff to research the initiative and bring it to life.
"Our residents have raised concerns about pollinator populations," says Rowland Cave-Browne-Cave. "This initiative aims to respond to those concerns by moving away from intensive management where it makes sense to do so and provide habitat for the bees, butterflies and other insects that make for healthy green spaces in our city."
While conducting research on other communities, staff connected with North Northamptonshire Council in England. Their "no mow" campaign was a widespread success and they were pleased to provide the City with permission to use their campaign slogan.
"We are beyond excited to see that our 'Pardon the weeds, we are feeding the bees' signs have reached Canada," said Sarah Parr, Grounds Services Manager for the North Northamptonshire Council. "We are overjoyed that they have been the key in creating new partnerships and friendships across the pond. This joint working of similar teams has been a tremendous boost to us here and it has given us the unique opportunity to share ideas with each other. There may be many miles of land and water between us but the importance of pollinators and the benefits of looking after local wildlife has bonded our towns and parks and we hope to work on more projects with the City of Belleville soon. Lastly, we are buzzing to know that there may be bees now in Canada feeding due to our pollinator project here in England!"
To broaden the City's impact, residents are also encouraged to take part in the campaign. There are a few ways interested residents can participate on their own:
Wait until your lawn is 4-6 inches long before cutting it (respecting the City's Property Standards and Clean Yards bylaws).
Cut lawns less frequently and set the blades higher to allow flowering plants such as clover, to re-flower quickly. This also helps to keep your grass healthy in times of drought.
Consider growing a pollinator patch - dedicate a small patch of lawn and leave it to grow; wait to see what arrives. The City recommends patches no larger than 10 square metres, preferably in the side or rear yard a metre away from property lines.
In addition to feeding our local pollinators, the "Let it Grow" campaign provides a number of other great benefits including:
Reduced costs by reducing the amount of gasoline used in lawn mowing
Reduced greenhouse gas emissions
Improved stormwater management
Increased ecosystem resilience