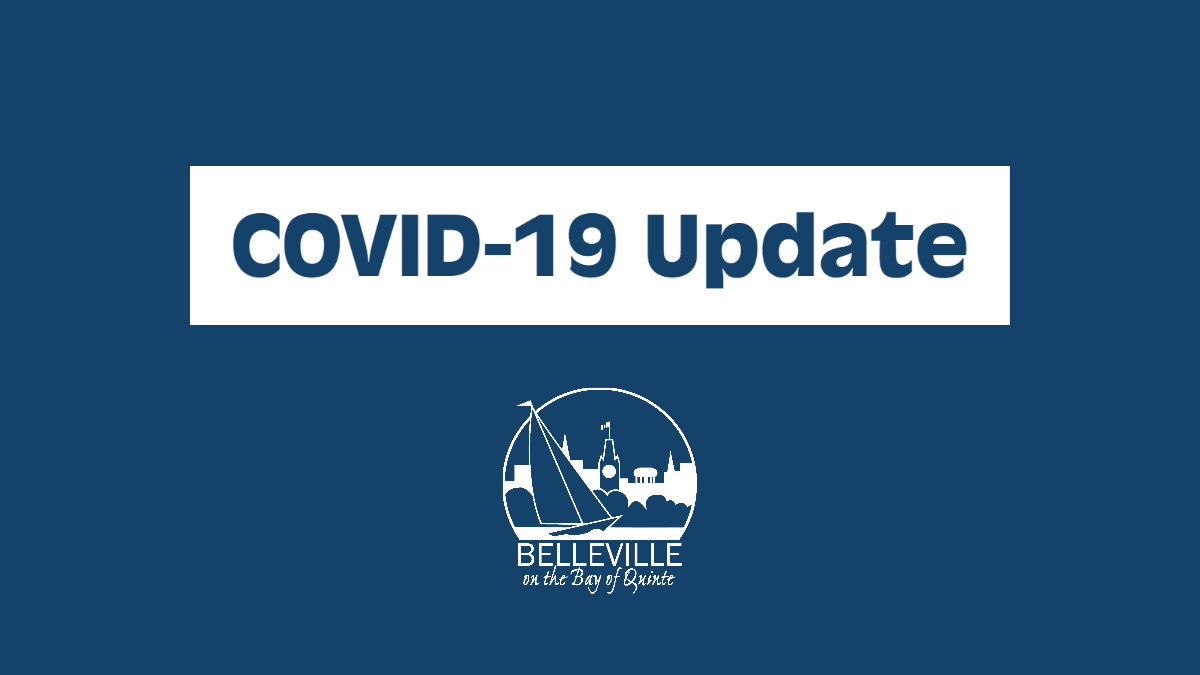 City officials continue to meet with representatives of Hastings Prince Edward Public Health, Quinte Health Care, neighbouring municipalities and other community partners on an ongoing basis to receive updates on the COVID-19 situation locally and beyond. Updates since the last meeting include:
There have been 2,098 confirmed cases to date in the Hastings Prince Edward Counties catchment area. There are currently 255 active lab-confirmed cases in the region, with 10 individuals hospitalized and seven in ICU. There are currently 18 outbreaks in the region. In-depth case details are available on Hastings Prince Edward Public Health's COVID-19 dashboard. Every effort is being made to update the dashboard Monday through Friday by 11 a.m. (with the exception of statutory holidays) with the latest information.
There have been 216,705 total swab tests completed by Hastings Prince Edward Public Health, Paramedics COVID-19 Response Team and COVID-19 Assessment Centres in Belleville, North Hastings Prince Edward County and Quinte West.
There have been 139,848 first doses and 129,184 second doses administered by HPE Public Health. This number will continue to be updated on the COVID-19 dashboard. More information on the vaccine rollout is available on Hastings Prince Edward Public Health's website.
The Hastings Prince Edward Public Health Unit's face covering mandate remains in effect.
Quinte Health Care has created a resource page for COVID-19 testing which includes assessment centre information and online registration forms. Residents who are experiencing symptoms of COVID-19 are encouraged to get tested.
Quinte Health Care has moved to Phase 2 (yellow) of their "Care Partners and Visiting During COVID-19" policy. More information is available online.
The Belleville COVID-19 assessment centre remains open from 9 a.m. to 5 p.m. daily. Due to a high volume of traffic at the centre, pre-registration is required. Residents are encouraged to register online.
HPE Public Health is advising all residents they should be concerned about the recent increase in cases of COVID-19 in the region and asking all residents to take action to reduce potential spread of the virus. All residents are advised to limit their close contacts by keeping any social gatherings small, keeping contacts consistent and seeking testing when you have any symptom of illness - even if fully vaccinated - including having a runny nose or sore throat.
Vaccination clinics continue to take place at a number of locations throughout the region. Residents are encouraged to stay tuned to HPE Public Health's website and social media channels for clinics near them. Appointments at the Quinte Sports & Wellness Centre are now required. Online booking is encouraged at Ontario.ca/BookVaccine.
Eligible individuals may now book an appointment to receive a third or booster dose of COVID-19 vaccine six months (168 days) after their second dose. More information is available online.
The Ontario government's Plan to Safely Reopen Ontario has been paused indefinitely. The government and the Chief Medical Officer of Health will continue to monitor trends in key public health and health care indicators and emerging data on the Omicron variant and will continue to take swift action to ensure the health and safety of Ontarians.
Ontario Ministry of Labour, Training and Skills Development and HPE Public Health will be working together to ensure businesses are taking the steps necessary to keep employees, consumers and the public safe by ensuring operations are compliant with the Reopening Ontario Act. Provincial offences officers will be visiting local businesses to review compliance and provide guidance about safe operations during a two-day inspection campaign on Dec. 16 and 17. More information is available online.
For other impacts to City of Belleville services, visit our COVID-19 information page.
Download the COVID Alert app for free in the App Store and Google Play.
For ongoing COVID-19 updates and ways to protect yourself and your family, please visit: hpepublichealth.ca.