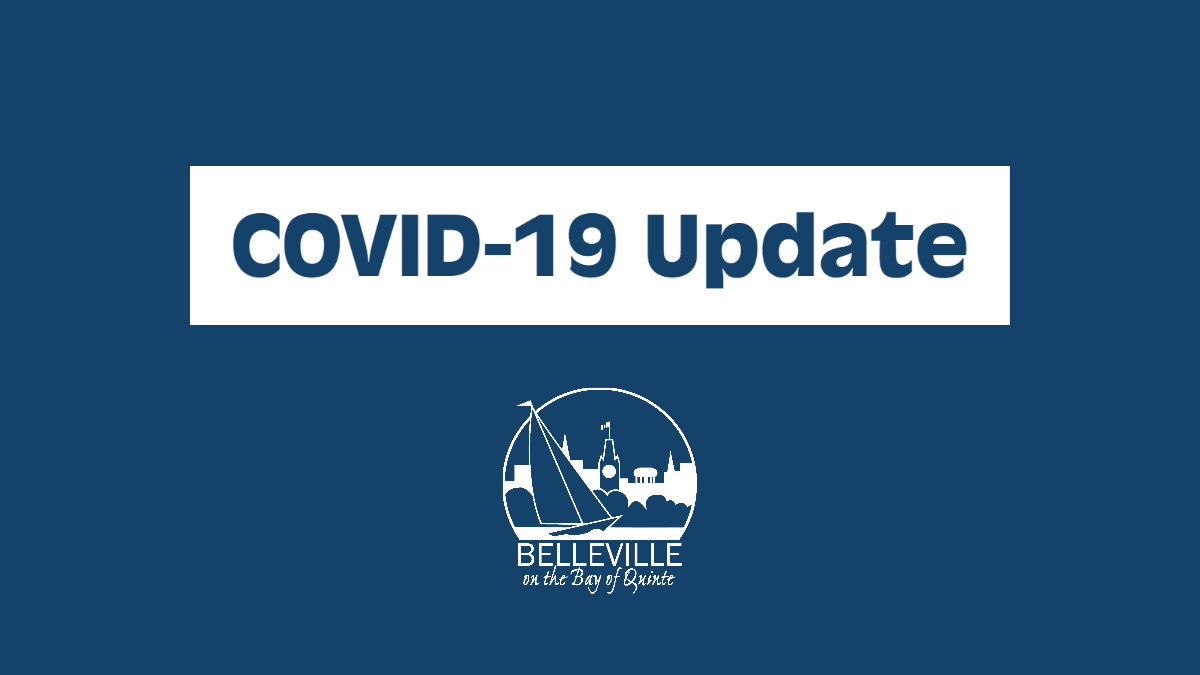 City officials continue to meet with representatives of Hastings Prince Edward Public Health, Quinte Health Care, neighbouring municipalities and other community partners on an ongoing basis to receive updates on the COVID-19 situation locally and beyond. Updates since the last meeting include:
There have been 377 confirmed cases to date in the Hastings Prince Edward Counties catchment area. There are currently 10 active lab-confirmed cases in the region, with zero individuals hospitalized, in ICU or on ventilators. In-depth case details are available on Hastings Prince Edward Public Health's COVID-19 dashboard. Every effort is being made to update the dashboard daily by 2 p.m. (with the exception of statutory holidays) with the latest information.
There have been 86,299 total swab tests completed by Hastings Prince Edward Public Health, Paramedics COVID-19 Response Team and COVID-19 Assessment Centres in Belleville, North Hastings Prince Edward County and Quinte West.
There have been 1,096 vaccines administered in the Hastings Prince Edward Public Health region to date. This number will continue to be updated on the COVID-19 dashboard. More information on the vaccine rollout is available on Hastings Prince Edward Public Health's website.
The Hastings Prince Edward Public Health Unit's face covering mandate remains in effect.
Quinte Health Care has created a resource page for COVID-19 testing which includes assessment centre information and online registration forms. Pre-registration is required for testing.
Hastings Prince Edward Public Health reminds parents to continue to check for symptoms of COVID-19 each day. An online screening tool is available on the provincial government's website.
Ontario has permitted three health units - including Hastings Prince Edward Public Health - to reopen under the Green – Prevent Zone framework starting today. The Stay-at-Home order is expected to apply to 28 other public health regions until Feb. 16 and Feb. 22 for Toronto, Peel and York regions. More information is available on the provincial government's website.
City Hall remains open by appointment only until Feb. 16, at which point it will reopen to the public with COVID-19 protocols in place. Following reopening, residents are encouraged to call 613-968-6481 and book an appointment to avoid waiting outside.
The Quinte Sports & Wellness Centre will return to operations on Feb. 16. Staff members are reaching out to user groups to resume activities. Ice bookings and swim teams will return Feb. 16. Recreational swimming, aquafit, pickeball, table tennis and advanced aquatic courses will begin the week of Feb. 22. All fitness classes will be held virtually for the Winter 'B' Session. Registration for these programs is now open at qswc.ca. Users will be restricted to residents of Green, Yellow and Orange zones and will undergo screening protocols.
Glanmore National Historic Site and the Belleville Public Library will reopen on Feb. 16. More information and COVID-19 protocols for both facilities are available on their websites.
In order to provide enhanced protection to the local community as the region returns to the Green-Prevent Zone, Hastings Prince Edward Public Health Medical Officer of Health Dr. Piotr Oglaza has implemented additional precautions under the Section 22 Order to supplement provincial restrictions. These precautions include: restricting bookings for accommodation, personal service settings and dine-in food services to individuals residing in regions where the Stay at Home Order has been lifted, limiting dine-in services to six people per table, requiring contact information for all patrons attending local food and personal service establishments, and more. More information is available in HPE Public Health's latest news release.
For other impacts to City of Belleville services, visit our COVID-19 information page.
Download the COVID Alert app for free in the App Store and Google Play.
For ongoing COVID-19 updates and ways to protect yourself and your family, please visit: hpepublichealth.ca