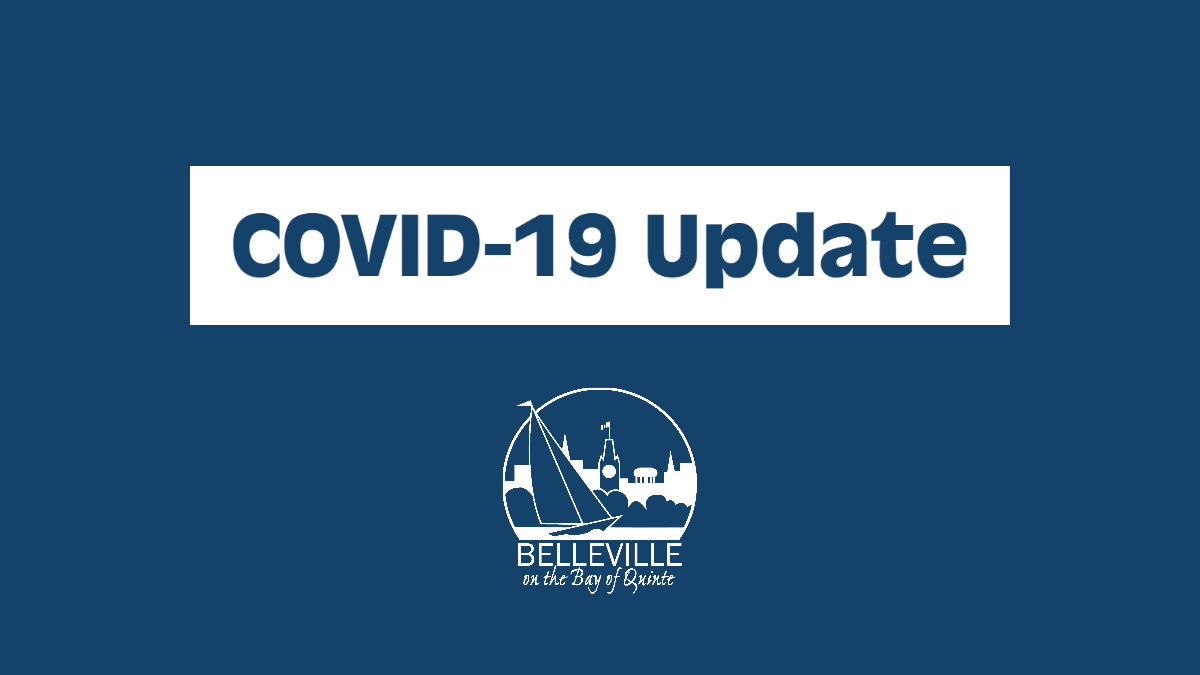 City officials continue to meet with representatives of Hastings Prince Edward Public Health, Quinte Health Care, neighbouring municipalities and other community partners on an ongoing basis to receive updates on the COVID-19 situation locally and beyond. Updates since the last meeting include:
There are currently 237 active high-risk cases in the Hastings Prince Edward Counties catchment area, with 25 individuals hospitalized and two in ICU. There are currently 12 outbreaks in the region. In-depth case details are available on Hastings Prince Edward Public Health's COVID-19 dashboard. Every effort is being made to update the dashboard Monday, Wednesday and Friday by 11 a.m. (with the exception of statutory holidays) with the latest information.
There have been 146,329 first doses and 136,117 second doses administered by HPE Public Health. This number will continue to be updated on the COVID-19 dashboard. More information on the vaccine rollout is available on Hastings Prince Edward Public Health's website.
Face covering mandates remain in effect.
Quinte Health Care has created a resource page for COVID-19 testing which includes assessment centre information and online registration forms. Residents who are experiencing symptoms of COVID-19 are encouraged to get tested.
Quinte Health Care remains in Phase 2 (yellow) of their "Care Partners and Visiting During COVID-19" policy. More information is available online.
The Belleville COVID-19 assessment centre remains open from 9 a.m. to 5 p.m. daily. Please note pre-registration is required. Residents are encouraged to register online.
Vaccinations continue to take place at a number of locations throughout the region by appointment only. Online booking is encouraged at Ontario.ca/BookVaccine. Those aged 12 and older are encouraged to book an appointment to receive their third or booster dose three months after their second dose. More information is available online.
Ontario has lifted proof of vaccination requirements in all settings. Businesses and other settings may choose to continue to require proof of vaccination. Masking requirements will remain in place at this time, with a specific timeline to lift this measure to be communicated at a later date. More information is available online.
City Hall has returned to regular 8:30 a.m. to 4:30 p.m. business hours. Proof of vaccination and appointments are no longer required. Security staff will continue to screen visitors prior to entry and monitor numbers to ensure physical distancing and masks are still required. Those who can are encouraged to continue doing business online or over the phone whenever possible and stay home if feeling unwell.
The Quinte Sports & Wellness Centre (QSWC) has begun to implement their resumption of services. Proof of vaccination and identification are no longer required to enter the QSWC. Face coverings are still required, and guests are reminded to continue practising regular hand hygiene and stay home if feeling unwell. More information and ongoing updates are available on QSWC's website.
Glanmore National Historic Site has reopened to the public. Residents are encouraged book tickets online and to stay tuned to the Museum's website for future updates.
The John M. Parrott Gallery has reopened to the public. More information is available online.
The Belleville Public Library has returned to full operations. Patrons will no longer be asked to limit their stay in the building, computer use will return to a two hour per day maximum and study desks will no longer be under a time limit or booking system. Indoor programs and events have also returned to the Library and the Gallery, including childrens' storytimes, art workshops and March Break programming. All programs will require advance registration. More information is available on Library's website.
For other impacts to City of Belleville services, visit our COVID-19 information page.
Download the COVID Alert app for free in the App Store and Google Play.
For ongoing COVID-19 updates and ways to protect yourself and your family, please visit: hpepublichealth.ca.