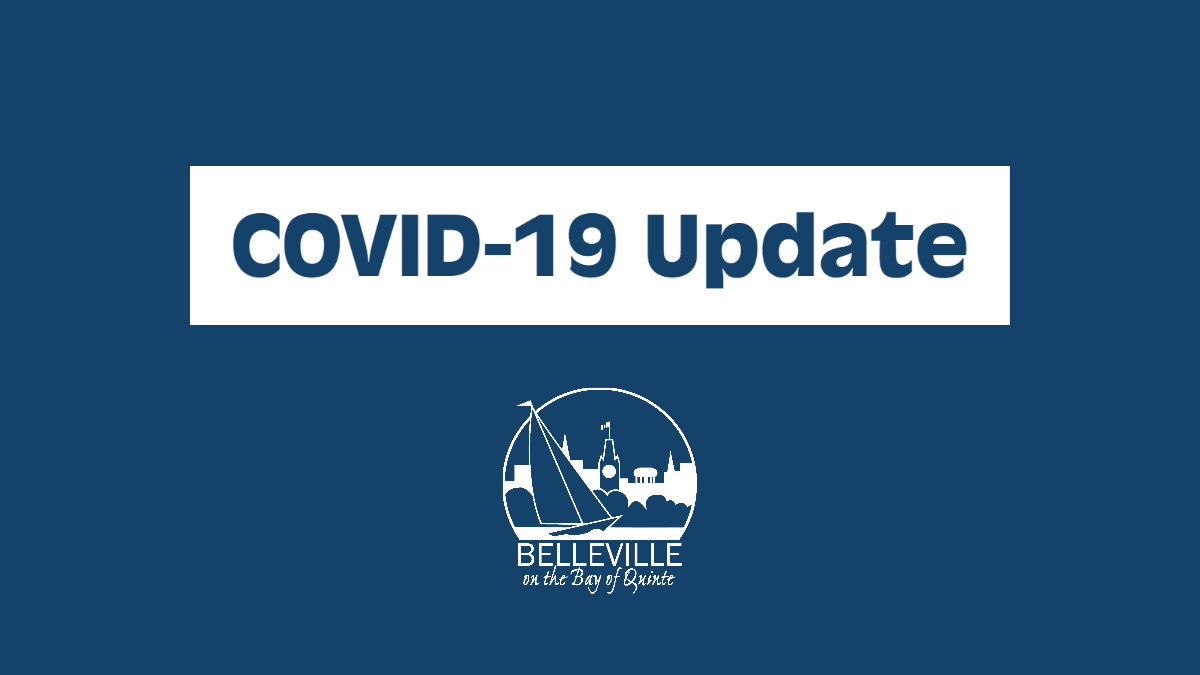 City officials continue to meet with representatives of Hastings Prince Edward Public Health, Quinte Health Care, neighbouring municipalities and other community partners on an ongoing basis to receive updates on the COVID-19 situation locally and beyond. Updates since the last meeting include:
There have been 1036 confirmed cases to date in the Hastings Prince Edward Counties catchment area. There are currently 83 active lab-confirmed cases in the region, with 17 individuals hospitalized, 7 in ICU and 5 on ventilators. There are currently 6 outbreaks in the region. In-depth case details are available on Hastings Prince Edward Public Health's COVID-19 dashboard. Every effort is being made to update the dashboard daily by 2 p.m. (with the exception of statutory holidays) with the latest information.
There have been 136,178 total swab tests completed by Hastings Prince Edward Public Health, Paramedics COVID-19 Response Team and COVID-19 Assessment Centres in Belleville, North Hastings Prince Edward County and Quinte West.
There have been 68,691 vaccines administered in the Hastings Prince Edward Public Health region to date with 63,946 first doses administered and 4,745 individuals fully vaccinated. This number will continue to be updated on the COVID-19 dashboard. More information on the vaccine rollout is available on Hastings Prince Edward Public Health's website.
The Hastings Prince Edward Public Health Unit's face covering mandate remains in effect.
Quinte Health Care has created a resource page for COVID-19 testing which includes assessment centre information and online registration forms. Residents who are experiencing symptoms of COVID-19 are encouraged to get tested. The Belleville COVID-19 assessment centre is open from 9 a.m. to 5 p.m. daily. Pre-registration is required. Residents are encouraged to register online.
Hastings Prince Edward Public Health reminds parents to continue to check for symptoms of COVID-19 each day. An online screening tool is available on the provincial government's website.
The Province remains under a province-wide emergency brake, State of Emergency and Stay-at-Home Order at this time. More information is available online.
Quinte Health Care has moved back to Phase 3 (RED) of its Care Partner and Visiting Policy. Details can be found on the Visiting page of the QHC website.
HPE Public Health continues to administer vaccines as they arrive each week. However, residents should note that being eligible to book does not guarantee that an appointment will be available right away. It is anticipated that local supply will increase near the end of the month, and Public Health will be able to offer more appointments each week. Eligible individuals are encouraged to continue checking the provincial booking system as new clinic dates are added frequently. More information is available on their website.
Individuals aged 50 and older and Group Two of People who cannot work from home are now eligible to book an appointment for the COVID-19 vaccine at ontario.ca/bookvaccine. Online booking is encouraged. If you are unable to book online for yourself, please ask a friend or family member to book on your behalf. You will require your health card number.
The Province has paused the rollout and administration of the AstraZeneca vaccine at this time. In a statement made yesterday, Ontario's Chief Medical Officer of Health Dr. David Williams announced that the decision has been made out of an abundance of caution due to an observed increase in the rare blood clotting condition, known as vaccine-induced immune thrombotic thrombocytopenia (VITT), linked to the AstraZeneca vaccine. More information is available online.
HPE Public Health has launched a weekly standby list for individuals from certain priority groups to fill last-minute appointment vacancies at COVID-19 Vaccine Clinics caused by no-shows and cancellations. More information is available in their news release.
As HPE Public Health continues to work through vaccine rollout, residents are asked for patience and cooperation. All groups that are currently eligible are listed online.
City Hall is open by appointment only for services such as marriage licenses and building permits. Residents are encouraged to call 613-968-6481 ahead of time and book an appointment.
For other impacts to City of Belleville services, visit our COVID-19 information page.
Download the COVID Alert app for free in the App Store and Google Play.
For ongoing COVID-19 updates and ways to protect yourself and your family, please visit: hpepublichealth.ca.