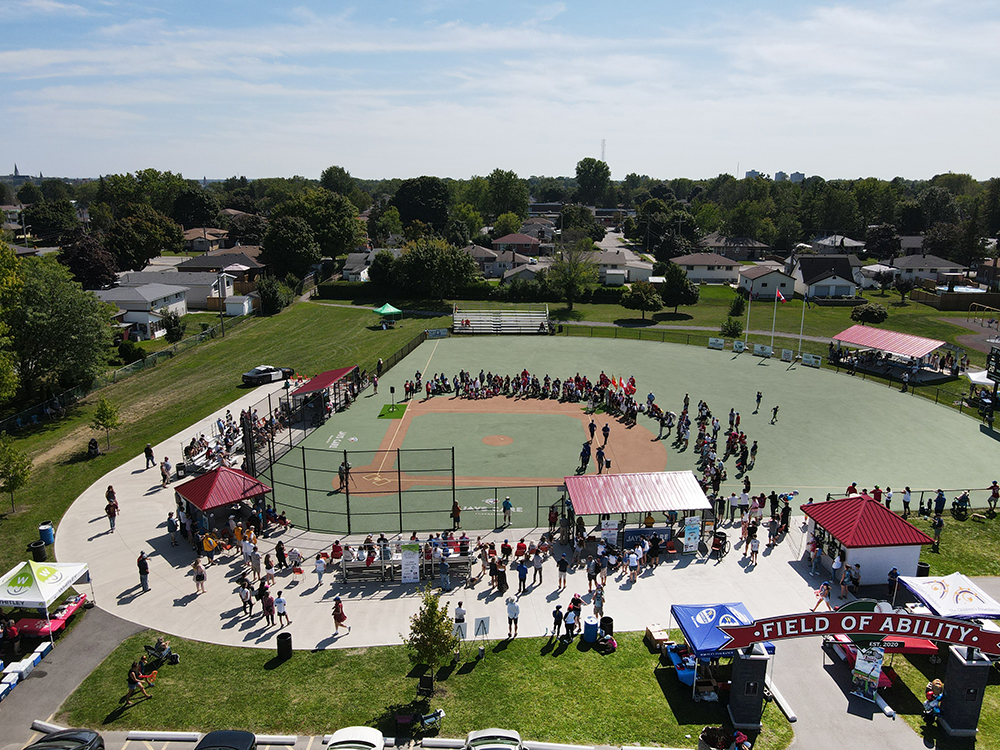 The Field of Ability Grand Opening held on Saturday could be described as one of the most emotional and joyous celebrations ever held within the Belleville community. The dream of so many has been recognized and the City of Belleville is now home to an amazing fully-accessible, barrier-free facility where everyone can participate in baseball and have equal opportunity to reach their full potential.
The Grand Opening began with the athletes proudly parading on to the field, followed by remarks from Mayor Mitch Panciuk, MPP Todd Smith, Lisa Newman-Chesher, Field of Ability Committee Chair and Jays Care representatives. The ribbon was cut, the first pitch was thrown, Field of Ability is officially open.
"Today is a proud day for all of us," said Mayor Mitch Panciuk. "For so many years we have dreamed of the moment when we would have a facility like this so that our residents and visitors alike could enjoy these activities. You can see that it took a community to come together to get this built. This is a testament about what people can accomplish when they work together to make a better Belleville and area."
"As I stand here today looking around at this amazing facility, I want you to know something about this park," added Lisa Newman-Chesher, Field of Ability Committee Chair. "These kids and adults are not just athletes, when they step on this field they are teachers. They are why I stand here today and why my heart is full. They have taught me to be kind, to be compassionate, to be soulful and to be inspired like no other. There is no seclusion, no one is left out. It is safe, loving, and joyful here. We meet people every day and some will leave a mark on your heart but not like these kids. They don't leave a mark - they colour your heart!"
The Field of Ability is one of a small handful of this type of facility, not only in Ontario, but across Canada. It is the only one of its kind anywhere between Toronto and Ottawa.