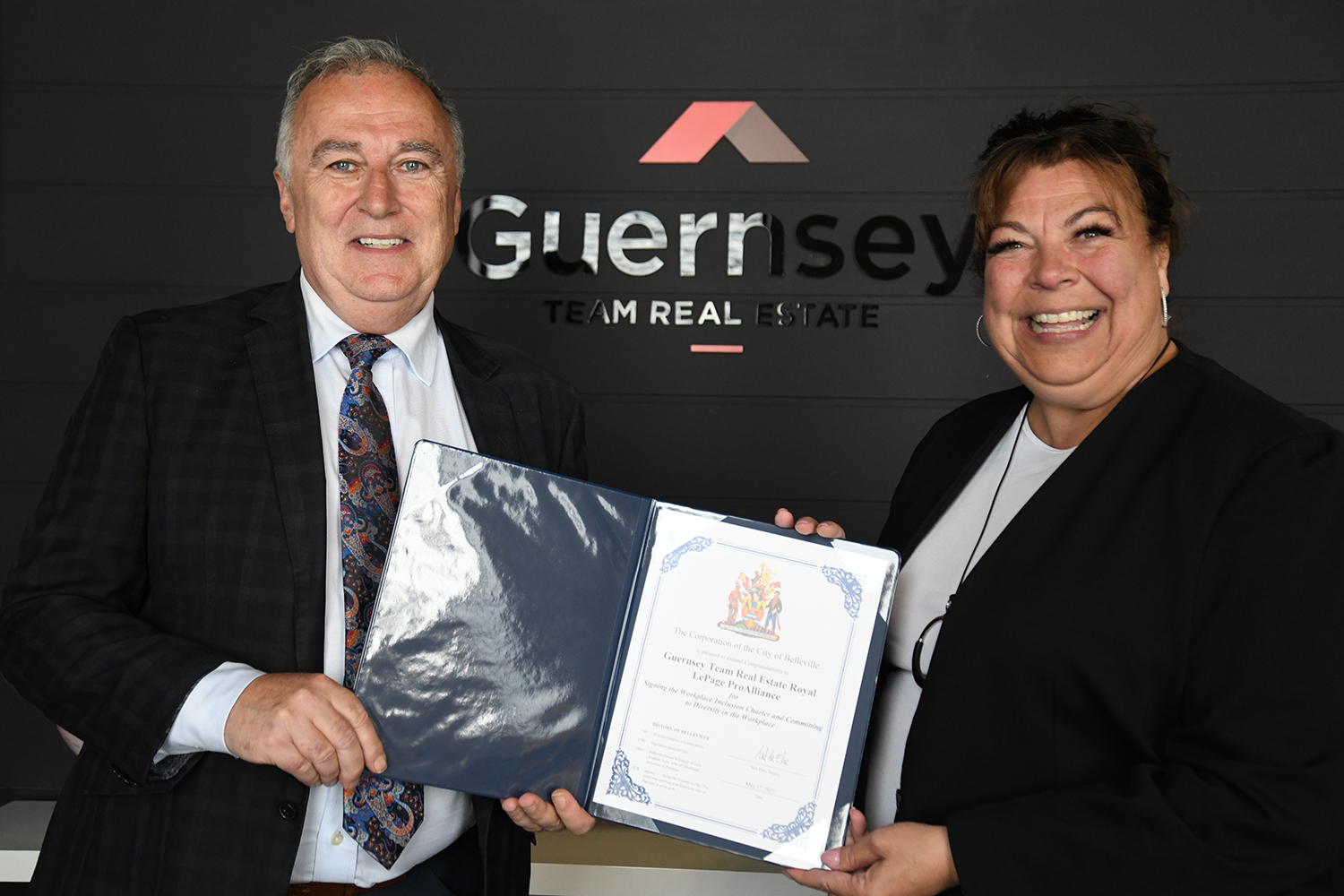 The City of Belleville is pleased to announce that Belleville's first realty team has declared their commitment to diversity in their workplace by signing the Belleville Workplace Inclusion Charter – Guernsey Team Real Estate Royal LePage ProAlliance.
The goal of the Workplace Inclusion Charter is to encourage local businesses and organizations to make a commitment to inclusion in the workplace through plan making, setting achievable goals that move their workplace forward and deploying a variety of tactics to meet those goals.
Guernsey Team Real Estate's current focus is on building a team with the character, ethics and values that embrace a diverse workforce including women, members of the LGBTQ2S+ community, seniors and those who experience non-visible disabilities. Their goal is to demonstrate that race, age, gender, sexual orientation or disabilities should not be a deciding factor to employment, and that embracing this diversity can produce tremendous results.
"As a community leader, Guernsey Team Real Estate is committed to support those initiatives and ideals that contribute to fostering an environment that respect the dignity and rights of all people," said Patricia Guernsey, Sales Representative and Team Leader of Guernsey Team Real Estate.
"We firmly believe that diversity strengthens a workplace by bringing different perspectives, culture and talents to the team. A diverse workforce provides additional opportunities for growth by helping to break down barriers and gain a better understanding of each other. The charter is something that embraces all of these values and practices, and is completely aligned with our vision of community, so it was an easy decision to sign on."
When it comes to next steps for inclusion in the workplace, Guernsey Team Real Estate is committed to ensuring that everyone on their team has a voice, and to continuing to hire a diverse staff based on their skills and character. They aim to build a stronger connection through open communication within the workplace and working with external organizations to better understand the challenges and issues faced by marginalized populations.
Mayor Neil Ellis was pleased to join Patricia Guernsey and staff today to congratulate and thank them for their commitment to inclusion in the workplace.
"We are very pleased to have a community-oriented business such as Guernsey Team Real Estate on board," said Mayor Neil Ellis. "The goal of the charter is to bring attention to the importance of inclusion in our community, and inspire other businesses to take steps to make Belleville more inclusive so it is wonderful to have local businesses rallying behind us and supporting that goal. We would encourage all Belleville businesses and organizations to take the pledge and commit to creating a more welcoming, inclusive Belleville for all."