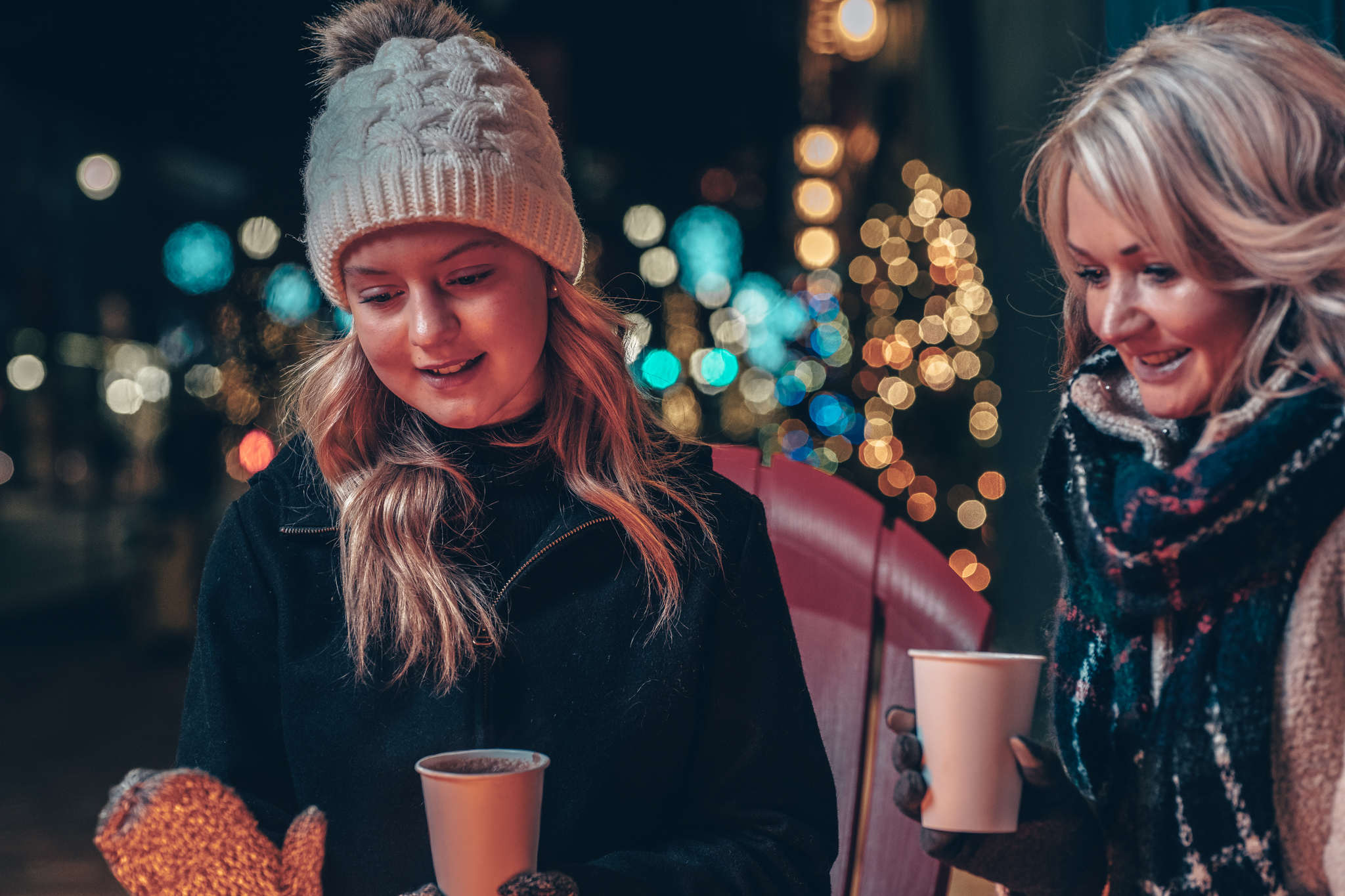 Make your list and check it twice for all the festivities to enjoy in Belleville this holiday season!
The City of Belleville has partnered with the Downtown District Business Improvement Area (BIA) to bring you a five-week holiday experience. On Nov. 17, make your way downtown for the Enchanted Holiday Market Launch Event filled with an expanded holiday market, buskers, food trucks, pictures with Santa and more.
Our Enchanted Holiday Market will take place every Thursday through Sunday from Nov. 17 to Dec. 18. Shop the streets as Side Hustle Market vendors sell handmade goods from wooden huts located on Front Street. A synthetic ice rink and interactive LED swings will be set up downtown to enjoy for the entire five weeks.
"Our goal is always to introduce new opportunities to support local entrepreneurs, drive traffic to the city and to develop and enhance experiences for residents and visitors," says Elisha Purchase, Tourism & Product Development Supervisor. "The City was pleased to receive funding from the Reconnect Ontario Program that supports festivals and events with a tourism economic impact to motivate visitors to rediscover our beautiful province, reconnect people with local experiences and generate increased tourism spending."
On Thursday evenings, Santa will be coming to visit! On Fridays, experience the Downtown District come alive as music fills the restaurants and streets. Retail stores will also stay open late on Thursdays and Fridays to help you find that one-of-a-kind perfect gift. Bring your skates and join us for skating and shopping and get into the holiday spirit on Sundays with carolers. Enjoy a cozy horse and carriage ride in the downtown - rides are free and available Thursday and Friday evenings as well as Sunday afternoons. Brighten your day with interactive light displays and get cozy by the fire tables in the Downtown District.
"This year, we are thrilled to partner with the City of Belleville to bring a magical atmosphere to the District throughout the five weeks before Christmas. We look forward to seeing everyone enjoy and experience the Enchanted Holiday Market," says Luisa Sorrentino, Executive Director of the Belleville Downtown District BIA.
It is truly a kick-off to the holiday season for Belleville. Experience the Festival of Lights launch on Friday, Nov. 18 at 4:30 p.m. at West Zwick's Park featuring live music, your favourite holiday characters and fireworks. The Lighting Display features an array of lights, movements and sounds – a must-see event for visitors and residents alike – and is on display in Jane Forrester Park until Jan. 3, 2023. More information is available at: belleville.ca/festivaloflights
Santa officially arrives in Belleville on Sunday, Nov. 20 at 4:30 p.m. at the Santa Claus Parade. The parade route follows Bridge Street and starts from Tim Horton's at Bridge Street and Sidney Street, ending at Bridge Street and Herchimer Avenue. Bring your lawn chairs and letters to Santa, bundle up the kiddies and get ready to see over 60 decorated floats, hear live music from local bands and choir groups, and wave to the big man himself, Santa! Collections for Gleaners Food Bank and the Belleville Professional Firefighters' Toy Drive and Boot Drive, as well as letters for Santa are encouraged.
There will also be pre-parade activities in Downtown Belleville (Enchanted Holiday Market), at East Hill Robin Jeffrey Park (Rotary Reindeer Ranch lighted display), and at the Glanmore National Historic Site (free arts and crafts activities on the front lawn).
For full event details, please visit: downtownbelleville.ca/enchanted