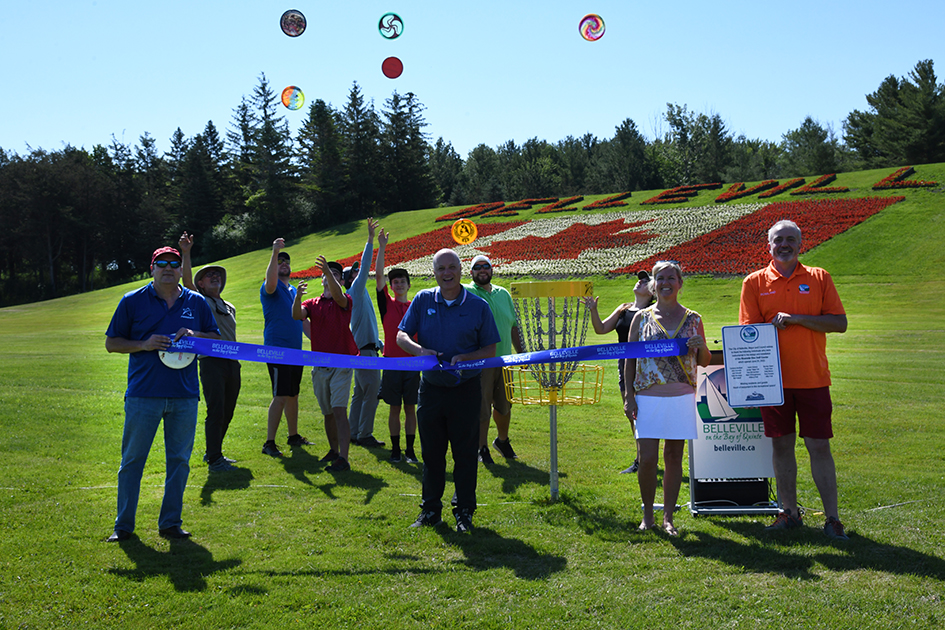 Mayor Mitch Panciuk, members of Belleville City Council and City staff were pleased to officially unveil the new disc golf course at Riverside Park on Saturday.
In the summer of 2012, the City of Belleville hosted the Ontario Disc Golf Championships at East Zwick's Park on a temporary course. Since then, the disc golf community has been lobbying for a course in Belleville to grow the sport both locally, and for sports tourism opportunities.
During the Parkland and Recreation Master Plan process, disc golf was identified as an emerging outdoor recreational activity gaining in popularity in municipalities across Ontario. It was recommended that staff work with community partners to investigate the feasibility of developing a course and potential locations in the city.
There were two locations considered for the design, East Zwick's Park and West Riverside Park, north of Bell Boulevard. Riverside Park was selected for the course due to its proximity to Highway 401, supporting food and accommodations vendors, existing park uses, safety for other park users and requirements for hosting championship tournaments.
The preliminary design was completed in 2021 with the assistance of Prodigy Disc Golf and the Belleville Disc Golf Club, and the item was approved during 2022 Capital Budget deliberations.
The newly-constructed, 18-hole course is located at the Highway 401 hill at West Riverside Park (293 North Park St.) and is open to the public. Any group over 25 participants is required to book through Recreation, Culture and Community Services. More information on booking is available online.
"It is clear that disc golf is a growing sport in our community and across the country," said Operations Planning and Development Manager, Transportation & Operations Services Rowland Cave-Browne-Cave. "We look forward to the opportunities this course will provide both our residents here locally, as well as our region as a whole as it opens the door for provincial and national championships."