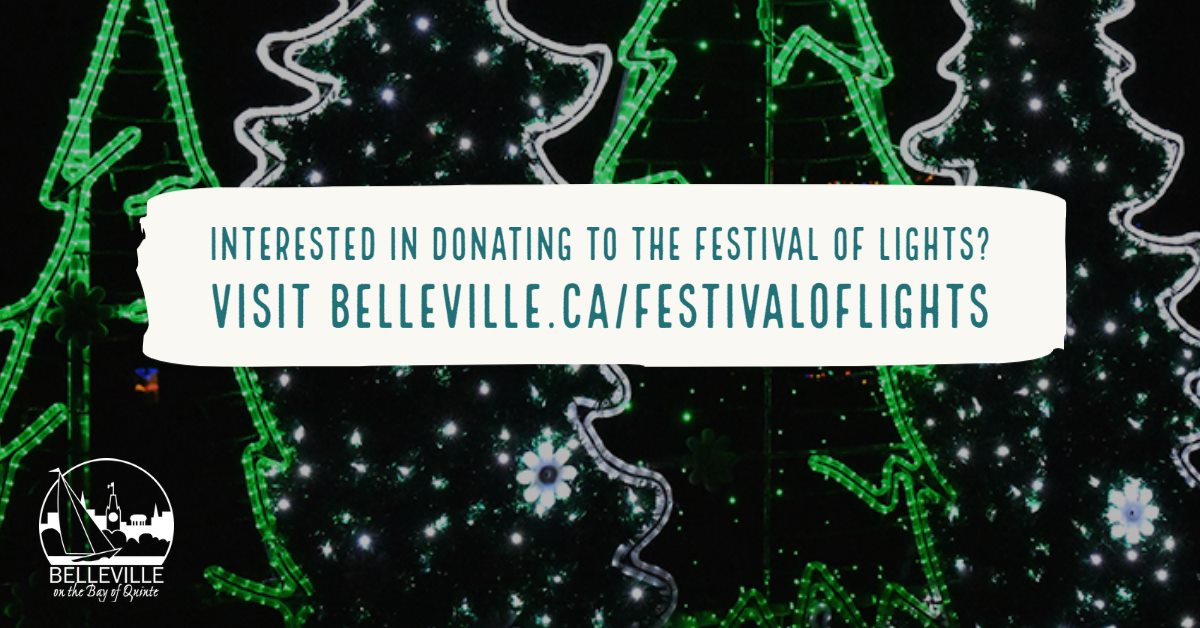 While the holiday season may seem far away, the Lighting Display and Gateway Signage Committee have begun preparations for the 2021 Festival of Lights and are now seeking sponsors for this year's display.
COVID-19 did not dampen the holiday spirit in 2020, as the Committee worked with the Belleville Downtown District BIA to create an incredible 5 km driving experience through the downtown and waterfront. The display was extended to include the Kiwanis East Bayshore Park behind Quinte Health Care, and Pedi-cabs gave riders a close-up view of decorated store windows, festive lights and homes adorned in holiday fashion throughout the downtown core.
This year's event will focus on celebrating the diversity of our city with the addition of a number of new and exciting displays.
"The Festival of Lights has become a 60+ year tradition in the City of Belleville, attracting thousands of residents and visitors to the Bay of Quinte waterfront each year," said Lighting Display and Gateway Signage Committee Chair and Belleville City Councillor Sean Kelly. "This annual event would not be possible without the generous financial contributions of individuals, service groups and businesses in our community. We would like to ask those who can, to consider donating whatever possible to the display. All donations, no matter the size, are greatly appreciated and help us ensure we can plan the best event possible for our residents!"
"We are very proud of the event that our Lighting Display and Gateway Signage Committee put together last year, despite the challenges of COVID-19," said Mayor Mitch Panciuk. "As vaccines roll out in our community and we look to brighter days ahead, we are eager to hear more about what the Committee has in store for this year's event."
The Festival of Lights display relies on the generosity of donors to maintain this beloved community treasure. Funds raised go towards refurbishing existing displays, replacing bulbs and/or purchasing new displays.
Organizations, groups, clubs, industries and private citizens who would like to make a donation or sponsor a display can do so online. All donations are welcome and will receive a charitable tax receipt from the City of Belleville.
More details regarding the 2021 Festival of Lights will be released in the coming months. Residents are encouraged to stay tuned the City's social media channels and Festival of Lights webpage for updates.