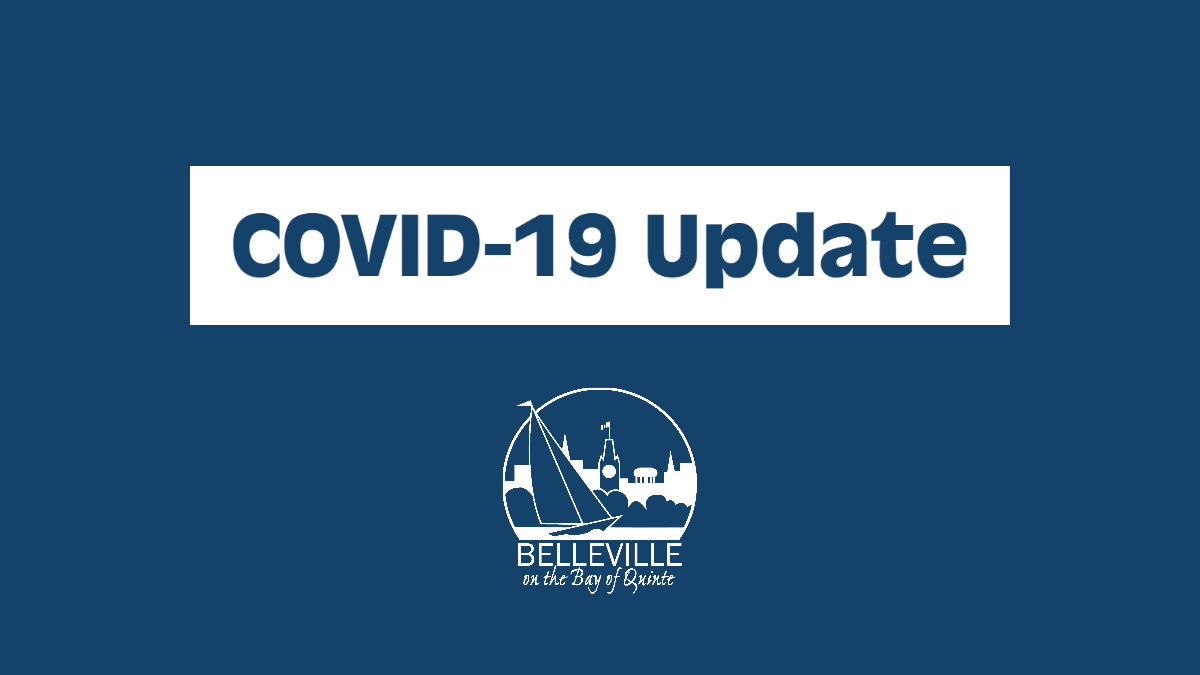 In light of this afternoon's announcement from Premier Doug Ford regarding the four-week province-wide emergency brake taking effect this Saturday, April 3 at 12:01 a.m., the City of Belleville will be making the following changes to services.
City Hall will be open by appointment only. Those who require in-person service to obtain marriage licenses or building permits are asked to call 613-968-6481 ahead of time and book an appointment. Staff will continue to work behind the scenes, while exercising COVID-19 safety precautions, to ensure services are provided for residents.
Transit is not affected and will continue to operate with safety precautions in place. Masks are mandatory and fare will be collected. Riders are reminded to practise recommended hygiene etiquette while utilizing transit including wearing a mask or face covering at all times, coughing and sneezing into the bend of your arm (not into your hand), practising physical distancing where possible by maintaining a distance of two metres, staying home when you are sick and avoiding contact with other people until your symptoms are gone, and washing hands as soon as possible or once you've reached your destination.
Effective this Saturday at 12:01 a.m., the following facilities within the Recreation, Culture and Community Services Department will be closed with scheduled activities and bookings cancelled until further notice.
The Quinte Sports and Wellness Centre will be closed to the public. Residents are encouraged to visit the QSWC website for more information. All clients will be contacted by phone or email with credits issued on account.
The following activities will be cancelled:
Recreational swims
Aquafit
Swimming lessons
Advanced aquatic courses
Private pool rentals
Ice/floor bookings
Pickleball
Table tennis
Badminton
Parkinson's Big Movement Exercise Program
All indoor fitness classes will move to virtual programming through Zoom, where possible. Clients are being contacted to confirm participation.
The free Speaker Series and Learn and Create programs will continue to be offered virtually along with the Fun on the Phone program. Youth workshops will continue as scheduled on Zoom.
All outdoor park and sport field bookings are cancelled until further notice.
Glanmore National Historic Site will be closed to the public. Residents are encouraged to visit the Glanmore website for more information.
The Community Archives of Belleville and Hastings County will also be closed to the public. Residents are encouraged to visit the Community Archives website for more information.
City parks and playgrounds will remain open at this time. Users are reminded to practise physical distancing at all times, wear a mask and sanitize before and after play.
The Belleville Public Library and John M. Parrott Art Gallery will be closed to the public. The Library will offer drop-off and pick-up services beginning this Saturday. Online services continue to be available. More information and updates will be posted to their website.
For other impacts to City of Belleville services, visit our COVID-19 information page.
Download the COVID Alert app for free in the App Store and Google Play.
For ongoing COVID-19 updates and ways to protect yourself and your family, please visit: hpepublichealth.ca.