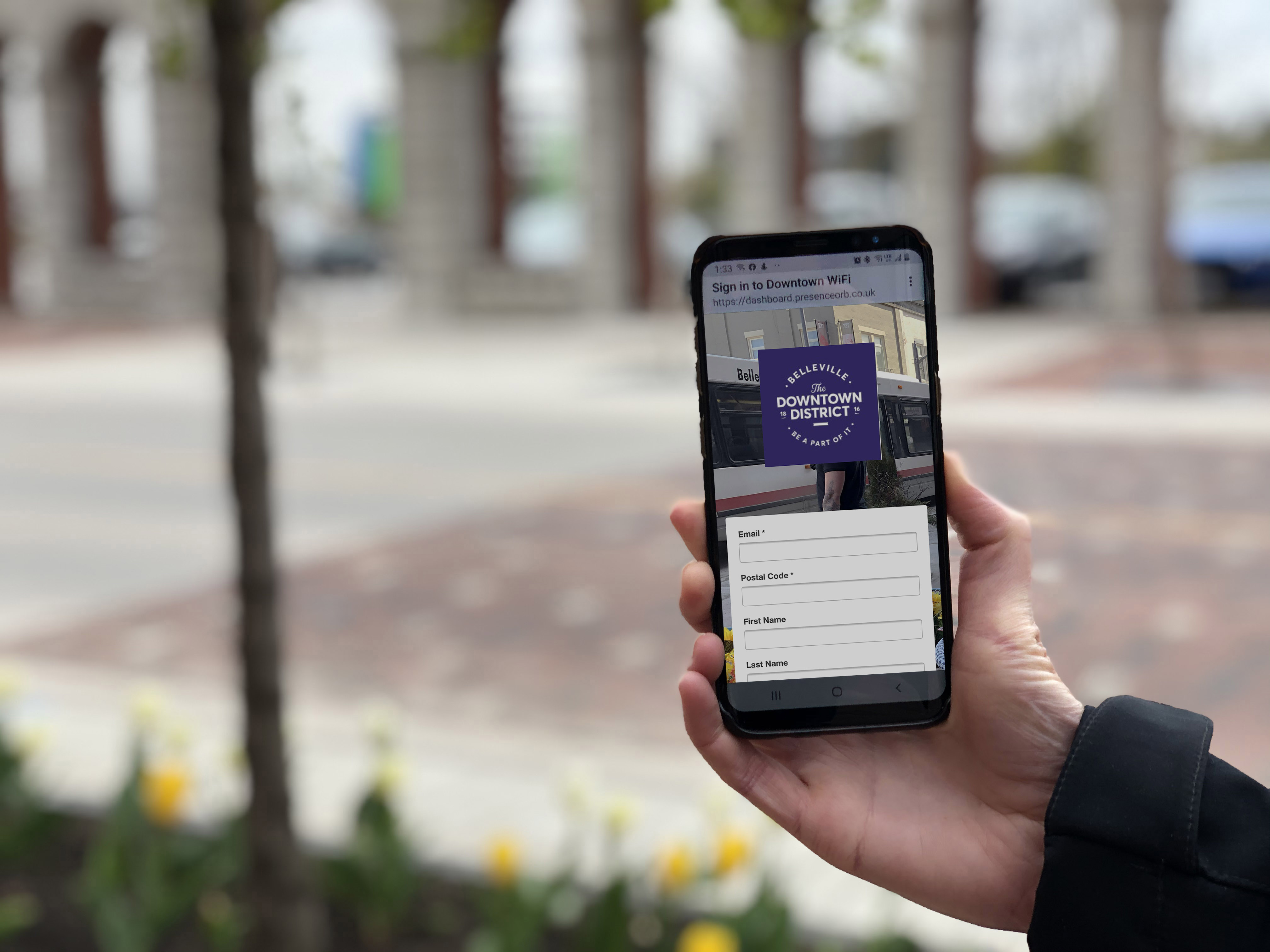 Visitors to the Downtown District can now enjoy Wi-Fi access in the core at no charge. Last spring the Province announced its investment through the Rural Economic Development (RED) Program supporting the project with nearly one-third of the cost. This is a project funded in partnership by the Downtown District, Bay of Quinte Regional Marketing Board, City of Belleville and the Province of Ontario.
This project provides so much more than courtesy Wi-Fi to users. Partners now have access to a system that will enhance visitor experiences and support local businesses. The system provides data analytics that will inform strategic planning and marketing efforts. Anonymous data being collected from the system includes street traffic, unique visitors, average linger time and visitor return percentage.
"The ability to provide free Wi-Fi to shoppers and dining guests is a service which will definitely enhance our visitors' experience but it's more than that," says Mayor Mitch Panciuk. "We are excited about the analytics software component because it will provide the City and its partners with data that will enable us to build upon our strong points and target our business communications in a more focused and strategic way."
Many commercial businesses that rely on consumer traffic provide free Wi-Fi to patrons but the opportunity to do so in the common spaces of downtown required the support of the partnership.
"When travelling, people want to stay in contact with family and friends, share photos on their social networks and check travel information. As a result, tourists are attracted to locations where public Wi-Fi is available," says Kathryn Brown, Belleville Downtown District BIA Chair and owner of Kate's Kitchen Shop. "From a BIA perspective, the information collected will allow us to better understand traffic patterns, length of stay and more. This will inform how we establish events and encourage new investment in our Downtown core."
The data collected will be shared by the partners and will provide a baseline of information that can be used to measure the success of future initiatives, identify trends over time and support investment attraction in the Downtown District. To access Wi-Fi in the downtown simply visit and connect to 'Downtown WiFi'.