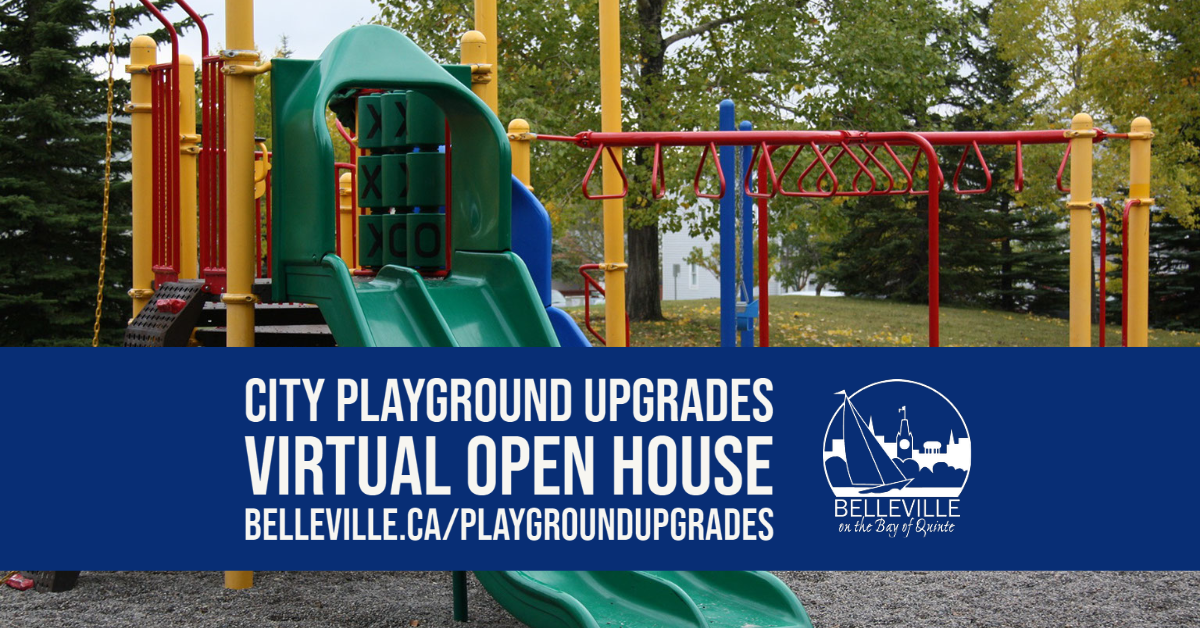 The City of Belleville's Parks & Open Spaces department would like to invite all Belleville residents to a virtual open house on April 22 from 5 to 6:30 p.m. to provide their input on proposed upgrades to the playgrounds at Haig Park, Stanley Parkette and Cascade Park.
In December 2020, Belleville City Council approved three playground replacements should funding from the Ontario Government be realized. The playgrounds at Haig Park, Stanley Parkette and Cascade Park were chosen and will undergo upgrades before the end of the year.
In preparation for this, the City's Parks & Open Spaces department began gathering information from residents about what they would like to see in the potential playground upgrades. Staff conducted an online survey earlier in the year and is now seeking residents' feedback on successful design concepts for each park.
During the online meeting, the top two designs for each park will be presented. Participants will then have the opportunity to vote for their preferred option through a poll. Please note this will be residents' only opportunity to provide feedback on the proposed designs. The meeting will be livestreamed and recorded on the City's YouTube channel. Poll results will also be posted to the project page following the meeting.
Residents interested in participating must register online for the meeting before April 20 at noon. An email will be sent out in advance of the meeting providing registrants with the login details. Those who require additional accessibility supports are asked to contact communications@belleville.ca so that alternate arrangements can be made.
"We would like to thank residents for their participation in helping us create playgrounds which best serve the neighbourhoods within our city," said Parks & Open Spaces Supervisor Rowland Cave-Browne-Cave. "This open house will be an opportunity for you to have your say in deciding which proposals we go with. We ask you to please take the time to participate and cast your vote. Your feedback is very important to us."
For more information and updates, stay tuned to the City Playground Upgrade project page.