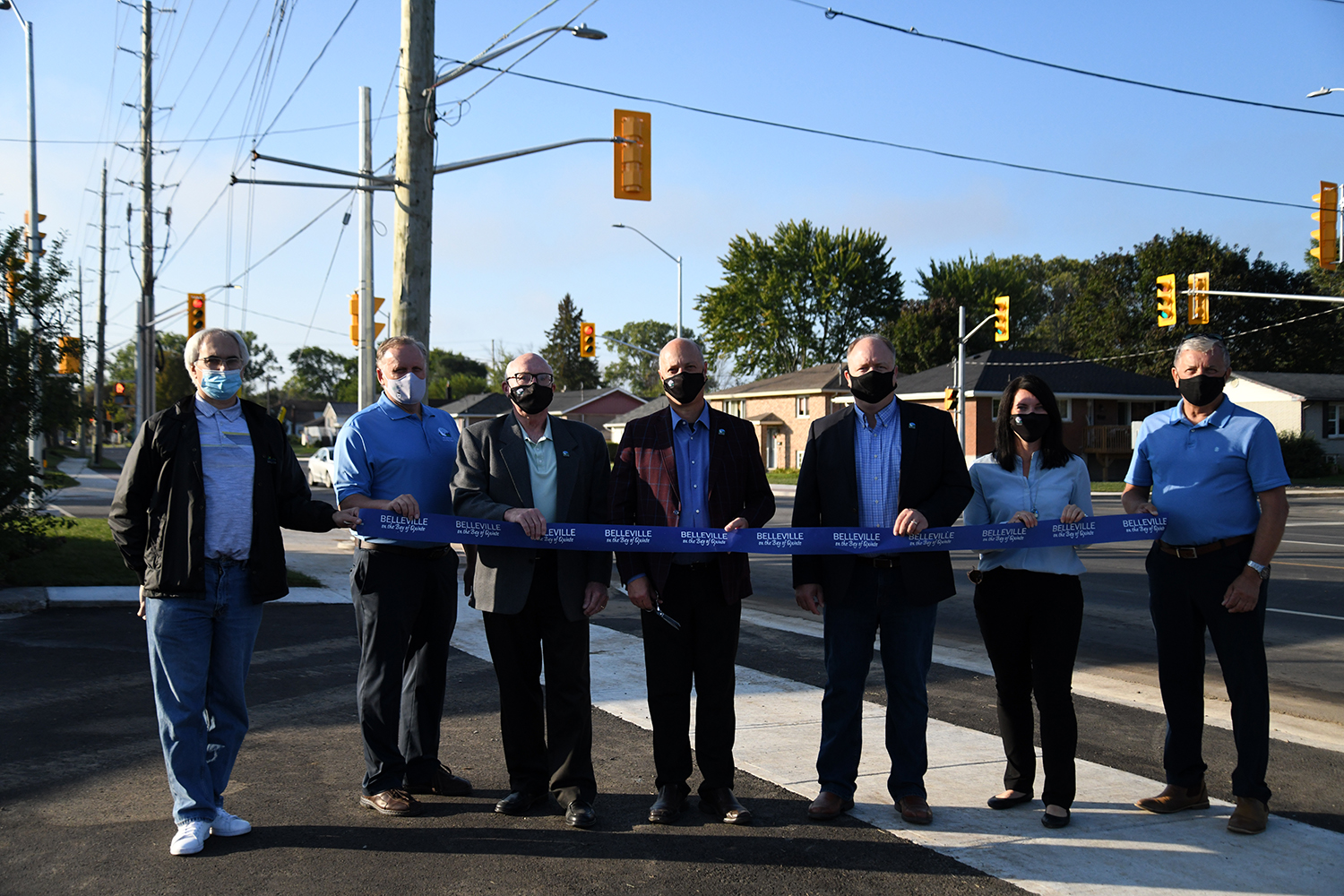 Mayor, Council and members of the project team were pleased to attend a ribbon-cutting ceremony to mark the completion of the third and final phase of the Bell Boulevard and Sidney Street Corridor Improvements Project at the intersection of Sidney Street and Tracey Street this morning.
Phase One of the project began in March 2020 and consisted of a new four-lane roadway on Bell Boulevard, turning lanes, new active transportation facilities, and provisions for future traffic signals at Jenland Way and a new intersection west of Jenland Way. This first phase of work was completed and celebrated with a ribbon cutting in front of Shorelines Casino Belleville in August 2020.
Phase Two extended from Shorelines Casino Belleville to Sidney Street. This phase consisted of widening this section from two to four lanes, complete with an asphalt multi-use path on the south side and a concrete sidewalk on the north side of the roadway, the installation of new traffic signals at Hanna Court, new street lighting and landscaping, and the widening of the Bell Boulevard and Sidney Street intersection to provide additional turning lanes, concrete medians and pedestrian crosswalks on each approach. Completion of the second phase was marked with a ribbon cutting in November 2020.
Phase Three consisted of the reconstruction of Sidney Street from Bell Boulevard to Maple Drive. This final phase of work included the reconstruction of the Tracey Street/Tracey Park Drive intersection and widening of Sidney Street between Tracey Street and Bell Boulevard for a centre two-way left turn lane, as well as the replacement of the watermain from Maple Drive to Bell Boulevard.
"As the City of Belleville continues to grow, we have seen much higher traffic volume along Bell Boulevard and Sidney Street," said Mayor Mitch Panciuk. "With these improvements now completed, the City is well-positioned for additional and future growth in this area. We are very pleased with the work that has been done and are proud to be able to provide motorists, cyclists and pedestrians alike with a safer, more accessible transportation route. Thank you to all motorists for their patience and understanding."