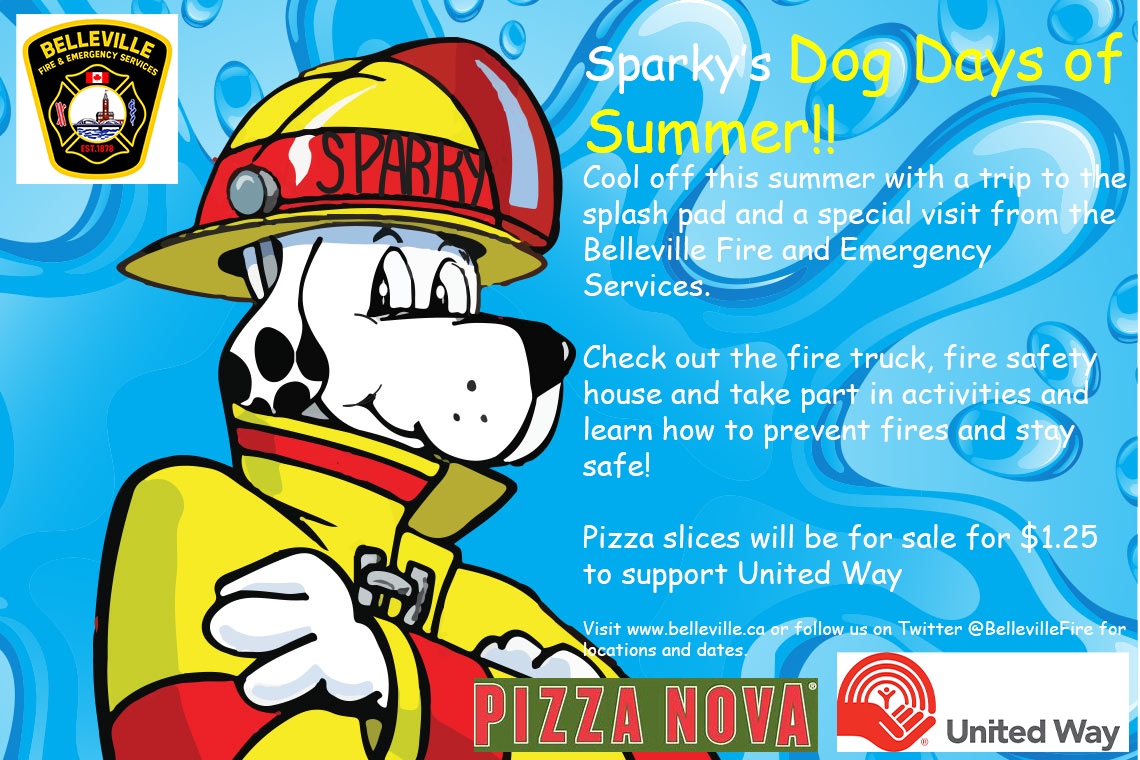 Belleville Fire and Emergency Services is combining fun with fire safety tips at City splash pads this summer. Starting on July 20, fire crews and prevention staff will be visiting splash pads to spread the word about fire and burn prevention in addition to displaying the new inflatable fire safety house.
Sparky's Dog Days of Summer is a fire prevention initiative that gives residents an opportunity to meet and talk to local firefighters at their neighbourhood park. Along with learning about fire safety and accident prevention, kids can check out the fire truck and take part in hands-on activities.
"It's never too early to start teaching kids about fire safety and we're excited to visit neighbourhood parks throughout Belleville this summer to provide a fun opportunity for families to learn about fire and burn prevention," said Jason Williams, Fire Prevention Officer with the Belleville Fire and Emergency Services.
Staff and volunteers will be selling pizza slices for a $1.25 each with proceeds going to the United Way of Hastings and Prince Edward.
Dates and locations:
July 20 - Selma Bochnek Splash Pad, 119 Birch St.
August 10 - West Riverside Splash Pad, 344 Moira St. E.
August 24 - Kinsmen Splash Pad, 151 Dundas St. E.
All events run from 5:30 - 7:30 p.m. weather permitting. For more information visit www.belleville.ca or follow us on Twitter @BellevilleFire.