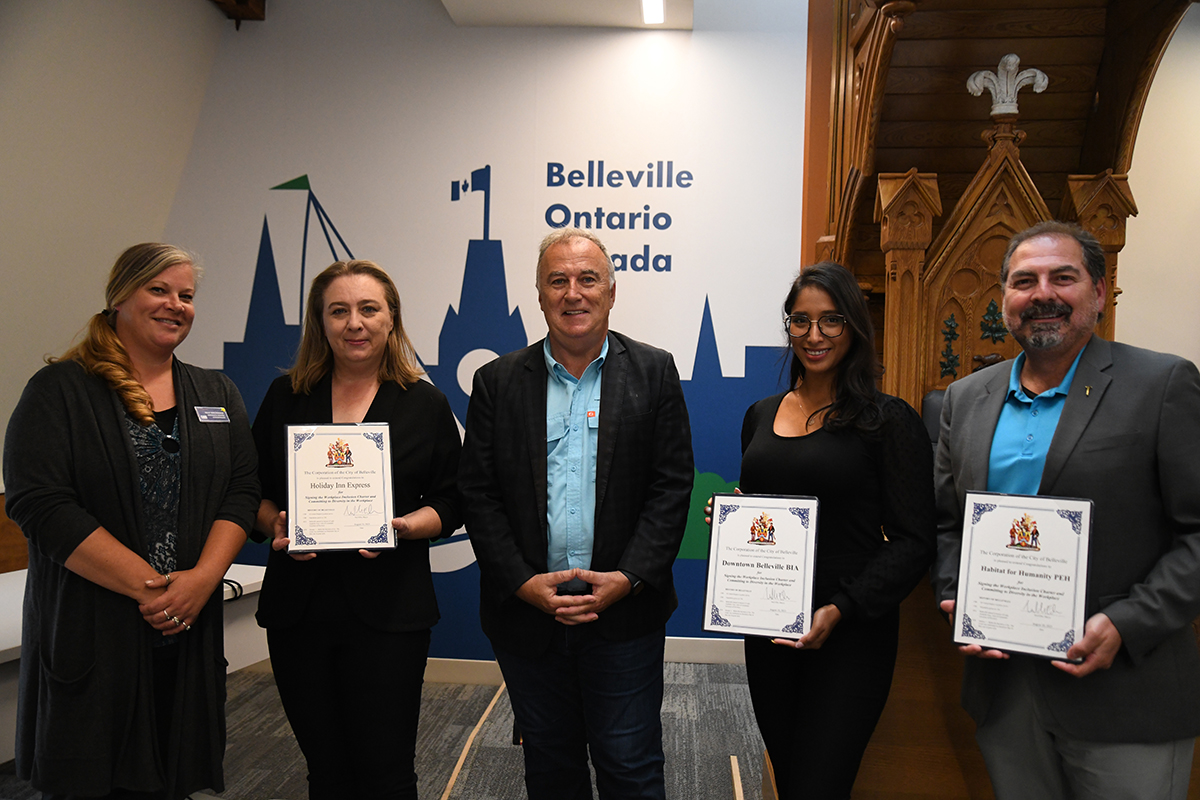 The City of Belleville is pleased to announce that Habitat for Humanity Prince Edward-Hastings (PEH), Holiday Inn Express and the Downtown Belleville BIA have signed the Belleville Workplace Inclusion Charter.
The goal of the charter is to encourage local businesses and organizations to make a commitment to inclusion in the workplace through planning, setting achievable goals that move their workplace forward and deploying a variety of tactics to meet those goals.
Habitat for Humanity PEH: Habitat for Humanity PEH is proud to endorse the vision and values of the Workplace Inclusion Charter. Their commitment to inclusion runs across their mission: from gender parity on their board, to a Restore space that is accessible and welcoming, to staff training, feedback and increased awareness.
"By making home ownership affordable for the many different types of families in our region, we play a key role in building a community that is diverse, welcoming and inclusive," said Habitat for Humanity PEH Chief Executive Officer Hazzem Koudsi. "We, at Habitat for Humanity, are enriched and educated through our diversity, and believe we are stronger together. Our team continues to work alongside community partners to build safe, decent and affordable housing for all, regardless of socio-economic standings."
When it comes to next steps, Habitat for Humanity PEH has updated diversity awareness in its policy manuals and is committed to ongoing training in areas of diversity, inclusion, and equity.
Holiday Inn Express: When Holiday Inn Express learned of the Charter, they were eager to sign on. Management felt that the charter fit the corporate culture already present with regard to inclusion, patience and compassion towards, not only their guests, but especially their staff.
Holiday Inn Express has always had an open-door policy in the workplace and recently, have begun working with local partners to employ people who might otherwise have difficulty finding employment.
"I can tell you from experience that some of these employees have turned into our best staff – hard working and incredibly supportive of their coworkers," said Lorrie Ostroskie, General Manager of the Holiday Inn Express. "At Holiday Inn Express, we aim to create a safe space where our staff are free to truly be themselves and always encourage comradery among the team."
In terms of what is ahead, Holiday Inn Express plans to implement a manager and supervisor commitment to staff and upholding a written Workplace Inclusion Policy. They believe that change and morale come from the top down and by having buy-in from management, staff will continue to feel safe and valued in the workplace.
Downtown Belleville BIA: The team at the Downtown Belleville BIA believe in fostering a culture of respect, empathy, and inclusivity, where all employees feel valued and empowered to contribute their ideas and opinions.
They presently have a diverse team with 50 per cent of staff identifying as LGBTQ, two staff members who have a non-visible disability, one transgender staff member and one staff member who is a person of color. They also have an inclusive board of directors with 50 percent being women. By signing the charter, the Downtown Belleville BIA is publicly demonstrating their commitment to fostering a diverse and inclusive work environment.
"Embracing diversity and inclusion leads to a more positive and productive workplace culture," said Downtown Belleville BIA Executive Director Danielle Hanoman. "It encourages collaboration, creativity and innovation by leveraging the unique perspectives and talents of a diverse workforce."
The Downtown Belleville BIA recognizes that creating an inclusive workplace is an ongoing process, and continually assesses their practices to ensure they are meeting their diversity and inclusion goals. Thy know that creating a truly inclusive workplace requires dedication, continuous learning and adaptation, and are committed to continuing this work. Their next steps is diversity and inclusion training planned for September.
Mayor Neil Ellis was pleased to join Hazzem Koudsi of Habitat for Humanity PEH, Lorrie Ostroski of Holiday Inn Express and Danielle Hanoman of the Downtown Belleville BIA today to congratulate and thank them for their commitment to inclusion in the workplace.
"It is wonderful to see so many community partners signing onto the charter and committing to inclusivity in their workplaces," said Mayor Neil Ellis. "With each organization that joins, we become a more welcoming and rounded community. I am so proud of the work that has been done by our community to date and can't wait to see what the future holds for this initiative."
As the signatories to the Charter continue to climb, Belleville's Workplace Inclusion Charter will be shared with other Eastern Ontario municipalities at the Ontario East Municipal Conference in Ottawa in September. Director of Economic Development Heather Candler will be joined by Quinte United Immigrant Service's Cat Fisher as presenters at the conference, sharing how the City's Workplace Inclusion Charter was developed and how it supports Belleville's workplaces to embrace inclusion.
"We're very happy that the Charter has become both a roadmap for workplaces exploring inclusion initiatives, and a celebration of those workplaces in the Belleville that are making great strides," said Economic Development Director Heather Candler. "We're looking forward to sharing Belleville's Workplace Inclusion Charter with our municipal colleagues across Ontario."