Belleville is and has been a massive hockey town. Since 1929, the downtown Memorial Arena was the place to play and watch hockey.
In the 1970's a group of railroaders known as The Belleville Yardmen raised and contributed more than $3 million towards the construction of the state-of-the-art Quinte Sports Centre, which opened in 1978.
This facility had an Olympic sized ice surface and was the largest ice surface in the Ontario Hockey League.
In the 1990's it was eventually given its name, Yardmen Arena to honour those railroaders and their contribution to the arena and the community. Signage identifying this facility as the Yardmen Arena was installed on the west side of the building.
Over time it became known as the Quinte Sports & Wellness Centre which included the Yardmen Arena.
In 2017 the Ottawa Senators moved their American Hockey League affiliate to the Yardmen Arena for the 2017-2018 season. On September 19, 2018, the Senators sold the naming rights of the facility, and it became the CAA Arena.
This monument will be erected in 2022 to honour the efforts of The Belleville Yardmen, who had a vision to build a facility, achieved their vision, created the Yardmen Arena and provided ice for winter sports for generations.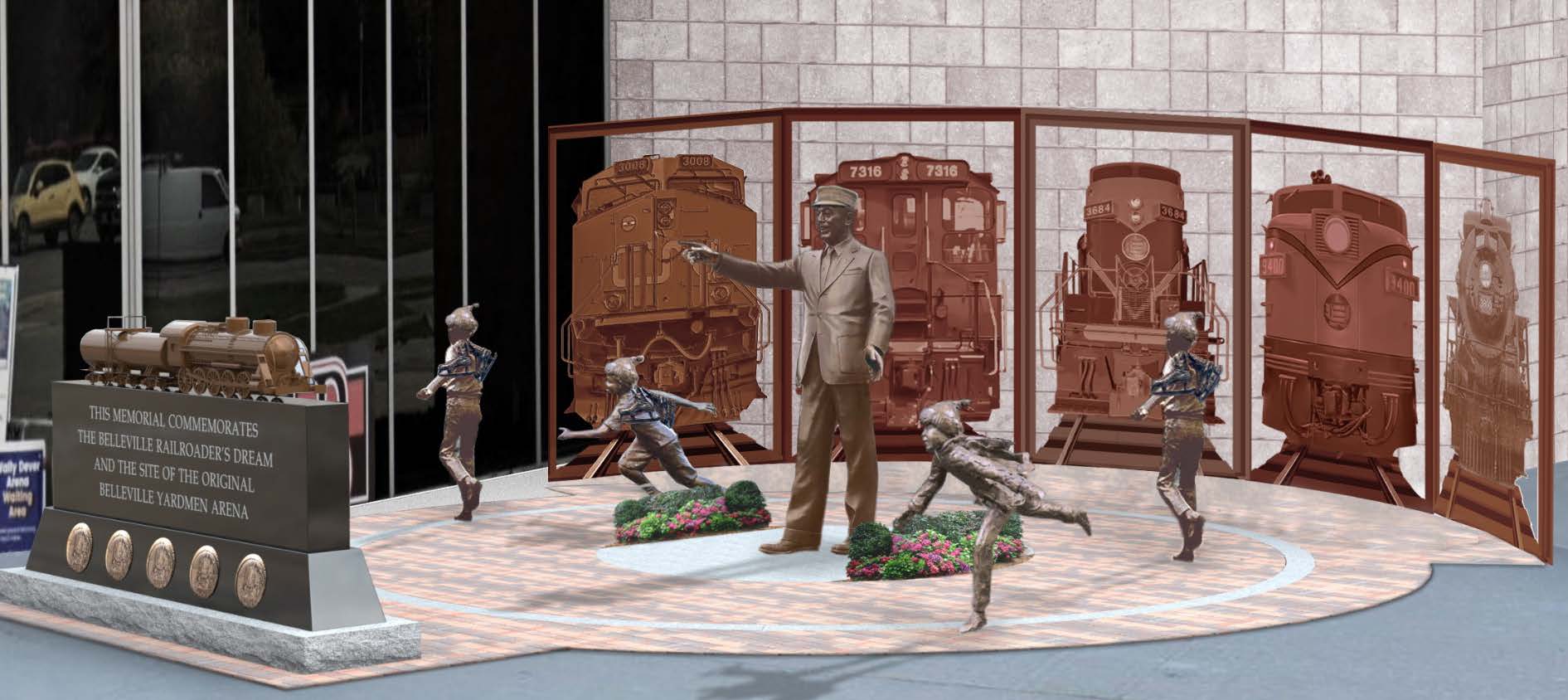 All aboard - donations
Donation level
You can make an anonymous donation or leave a legacy of a family member in their memory or their honour.
$20.00 - $1,000
$1,001 - $5,000
$5,001 - $25,000
25,001 - 50,000
50,001 - 100,000 +
Donations over $10,000 will have the donor name added to a wall plaque at the monument site.
How to donate
You can donate by completing the CN Yardmen Monument Tribute online form or in person or mail at City Hall, 169 Front Street, Belleville ON K8N 2Y8 or the Quinte Sports and Wellness Centre, 265 Cannifton Road, Belleville ON K8N 4V8.
Cheques should be made payable to the City of Belleville with CN Yardmen Monument Tribute in the subject line. Tax receipts will be issued for all donations.
Donor list
We would like to recognize and thank the following donors for their generosity and for contributing to the CN Yardmen Monument Tribute.
$20 - $1,000 level
In Memory of Jack, Glen, Reg Harrington
In Memory of Isabel Mastin
In Memory of T.G. (Jerry) Doran
Kenneth & Sandra Cork
Mary Czechowski
Kathie Dwyer
Anthea K. Dwyer
John & Irene MGinnis
Adam Hannafin
Alliance Custom Fabrication Inc
Berry Plastics Canada Inc.
CN Pensioners Association
John Mueller
Mary F Lochhead & Laura Haennel
Brian Murray
In Memory of Joseph, Edward, Phillip & Ted Drumm
Luisa & Ildo Sbragia
Ontario Provincial Council of the CN Pensioners
Wayne Sheppard
Anne Bunnett
Elaine O'Hara
Starboard Communications Ltd./95.5 FM
In Memory of Ronald T Brinklow
Leah Johnson
In Memory of Roy Bools
Mrs. Bette Ross
David & Ardel Hitchon
Phyllis & Larry MacKenzie
$1,001 - $5,000 level
Fidelity Engineering & Construction Inc.
Potters Creek Developments Inc.
Jamie Troke
O'Flynn Weese
Willowlee Sod Farms
Cobourg Development Services
Ross L McDougall
Mrs. Mary Vaughan
CN Pensioners Association
$5,001 - $25,000 level
McDougall Insurance Brokers Ltd.
Frank O. Huff
Belleville Senators
$25,001 - $50,000 level
$50,001 - $100,000+ level
John M & Bernice Parrott Foundation Inc.
Questions
Contact Krista Keller at 613-966-4632 x 3218 for information or send an email.