City projects are initiatives we take to improve infrastructure or services to enhance our community and prepare for future growth.
Capital Construction Projects
Capital Construction projects include road construction, storm and sanitary sewer projects, watermain projects, bridge projects, new sidewalks, and drainage projects. Some of these projects can be found on the Construction Project webpage.
Three Phases of a Capital Construction Project

The Capital Construction process is typically divided into 3 essential phases: Planning, Design and Approvals, and Construction. See the phases below:

Phase 1 - Project Planning
The planning phase is where the project plans are documented outlining the activities, requirements and costs associated with the project which can include:
Identify infrastructure needs
Identify financial resource requirements
Identify project schedule
Geotechnical investigations
CCTV inspections of underground services
Complete Municipal Class Environmental Assessments
Public consultation including First Nations consultations
Preliminary design and preliminary project estimate
Preliminary design and preliminary project estimate
Identify property requirements
Assist Assembling Federal/Provincial Grant Applications

Phase 2 - Design and Approvals
The design and approvals phase grants final approvals on drawings which can include:
Final engineering drawings and contract documents
Utility co-ordination and relocations (hydro (2), gas telecommunications (5+))
Obtain approvals from regulatory agencies

MECP (ECA's, PTTW, Species at Risk, etc.)
City Approvals (Form 1 - Watermain Alterations, other departments)
MNR (Ministry of Natural Resources)
(Federal) Department of Fisheries and Oceans
Quinte Conservation (Fill and Alteration Permit)
Canadian Transportation Agency (Railway crossings)
Pipeline Crossings (Trans Canada, NPL)

Final Public Consultation (as necessary)
Pre-tender estimate or final project estimate

Phase 3 - Construction
The construction phase may include the following:
Advertise Tender and Council Award
Construction Inspection

certifying work is being complete per contract specifications
tracking quantities daily,

Contract/Project Close-out activities:

Construction Lien Act
Compliance reporting pre Permits
Warranty period inspections and repairs
"As-Constructed" drawings

Becoming more Compliance Oriented:

Record keeping (of traffic control, signage, etc.) to demonstrate compliance
MECP reporting required per ECA's, PTTW & Species at Risk
DFO reporting per permits issued
City requirements for watermain revisions - Form 1
Quinte Conservation Permit reporting
Pipeline Crossing inspection requirements
ESA certifications for electrical woks (street lights, traffic signals, etc.)
"Prompt Payment" Legislation requirements
Providing info for submission / certification of grant submissions

Evolving Regulatory Environment

Future (2022) compliance requirements per new Soil Management Regulations enacted in December 2019
Asset management requirements
Loyalist Secondary Plan (LSP) Update
The Loyalist Secondary Plan (LSP) Update is an important next step in planning for the future of the City. The area-specific policies for the Plan will be reviewed to confirm whether they are in conformity with the most recent Official Plan update, and public consultation will be conducted to determine whether the specific needs and opportunities of those who live and work in the area have changed since the adoption of the Plan in 2010.
Corridor Study - Bell Boulevard and North Front Street
The goal of the Corridor Study is to understand the specific needs and opportunities in the study area and establish a framework that gives the City direction with regard to its current and future development as a mixed use corridor.
Official Plan Review
The Official Plan is our City's key land use document. It describes what kind of community we want to become in the future. It sets goals, objectives, and policies which guide our land use planning decisions. Everything the City does relating to land use needs to conform to the Plan. The City is currently undertaking an Official Plan Update as required by the Planning Act.
Solar Projects
The City of Belleville has entered into a 20 year partnership with the OPA (Ontario Power Authority) which will guarantee income from these projects. The projects have been developed over the past 3 years at various locations throughout the city.
Affordable Housing Initiatives
At the Housing Summit hosted by the City of Belleville, Council passed a number of resolutions and amendments to address housing issues in Belleville. Planning Staff have consolidated these motions into seven 'action items' which are currently being undertaken. More details can be found on our Affordable Housing Initiatives page.
Zoning By-law Consolidation
The City currently has three zoning by-laws which govern land use. The purpose of the Zoning By-law Consolidation and Update is to merge the three By-laws into one and update the content to address key issues facing the City.
Infrastructure Phasing Strategy
The City is taking a proactive and coordinated approach to infrastructure planning on a sub-area basis to ensure the efficient use of land and infrastructure through preparation of an Infrastructure Phasing Strategy. This will be determined through an assessment of the issues, opportunities and gaps related to development contemplated in the Official Plan. The Infrastructure Phasing Strategy will help the City prioritize development that utilizes existing infrastructure, and identify a strategic approach to the phasing of future development to support long term growth.
With completion of the Infrastructure Phasing Strategy Background Report, an Infrastructure Phasing Policy will be developed for Council's consideration which will enhance the focused delivery of infrastructure in an efficient and sustainable manner in conjunction with the City's Capital Budgeting process and Asset Management Plan.
Traffic Calming
Belleville City Council approved a Traffic Calming Pilot Project aimed at implementing city-wide traffic calming measures in 2021. The Engineering and Development Services department requested input from residents' for traffic calming measures throughout the city. For more information please visit our Traffic Calming Page
Belleville Downtown Commons Feasibility & Economic Impact Study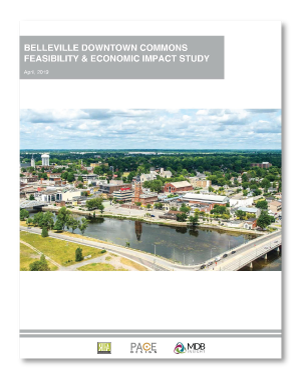 A Feasibility and Economic Impact Study for the Downtown Commons lands was initiated with the intent of redeveloping the lands surrounding City Hall to create a vibrant place to live, work, and play.
The study will articulate a vision for the Downtown Commons and quantify the merits of further investment on the City's tax base and economic development, as a stimulus towards further investment in the City Centre as a whole.
Draft Development Guidelines and Manual
With the approval of the new Official Plan and the preparation of a more modern and flexible draft comprehensive zoning by-law, the City has been preparing additional resources such as Development Guidelines and a Development Manual, enabled under Section 8.13 of the Official Plan.
Public Consultation Centre
Public Information Centre
The Public Consultation pages will provide a list of projects inviting public comment. Each Project listed will include details regarding the project, a Frequently Asked Questions (FAQ) section and a comment form for submission. A list of projects inviting public comment is available on the Public Consultation webpage.