The City is undertaking a corridor study for Bell Boulevard and the portion of North Front Street between Bell Boulevard and the rail line. The purpose of the Corridor Study is to provide a detailed analysis that reviews and integrates planning, urban design, engineering due diligence (water, sewer, storm), and ecological due diligence of the study area.
The goal of the Corridor Study is to understand the specific needs and opportunities in the study area and establish a framework that gives the City direction with regard to its current and future development as a mixed use corridor. This direction will contribute to the overall planning vision for the City by helping to meet Official Plan (OP) objectives, and will help Belleville make well-informed decisions related to the development of the Bell Boulevard/North Front Street corridor.
Study Area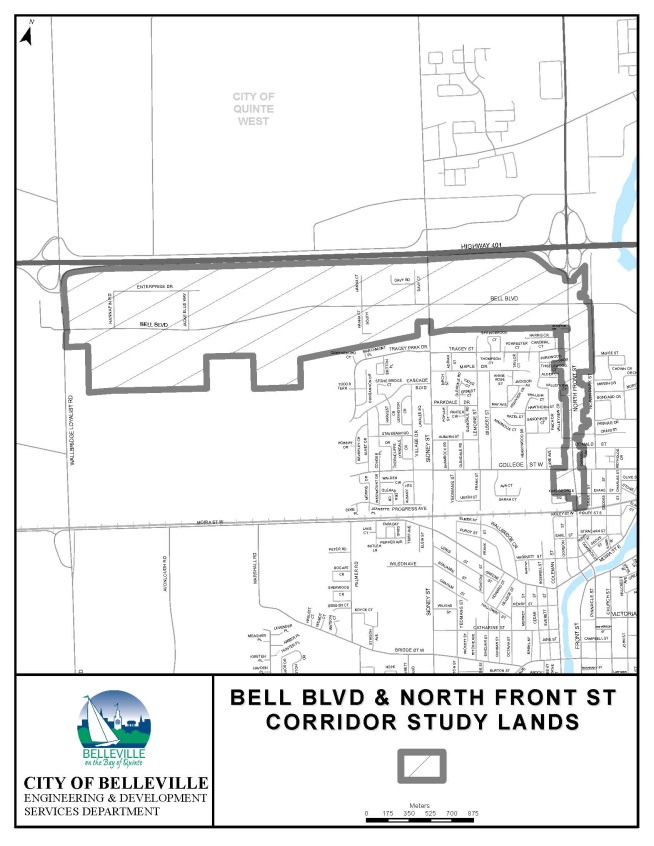 Scope of the Study
The scope of work is anticipated to be completed in four phases.
Phase 1 – Project commencement and background review
City Staff will meet with the consultant to confirm the study area, identify and delineate preliminary sub-areas, and provide data or relevant background information for the Study area.
Phase 2 – Inventory of existing conditions
The consultants will review the current conditions of the Study area by reviewing the data provided and conducting a site visit of the area in order to summarize their findings regarding the area.
Phase 3 – Options for development
The consultants will review the anticipated future conditions for the study area and receive feedback from the public through a public engagement where they will present the findings from Phase 1 and 2.
Conceptual development options will be prepared for the corridor.
Conceptual development options will be presented to the public for feedback and to identify a preferred development option.
Phase 4 – Strategic Framework
The consultant will draft a Corridor Plan based on the preferred conceptual development.
The Corridor Plan will also include recommended policies, which will form the basis for staff's preparation of an Official Plan Amendment (OPA) to incorporate the Corridor Plan into the Official Plan.
An implementation and phasing strategy that will guide the future development of the corridor will also be prepared by the Consultant.
Public Consultation
Public engagements will be held throughout the process of the creation of the Corridor Plan.
Consultant
Fotenn Planning & Design have been awarded the contract to undergo the Bell Boulevard and North Front Street Corridor Study.
To submit comments or be added to the interested parties list to be notified of the progression of the study and when public engagements will be held please fill out our Corridor Study comment form or email planning@belleville.ca.