City of Belleville Budgets
The annual budget is an important policy document that dictates how the City will collect and allocate resources to best improve and maintain City services and infrastructure for the community.
The budget is broken down into two components: the Capital Budget and the Operating Budget. Below are guiding documents that simplify the principles of municipal budgeting and the City's process approach to Council's approval and adoption:
2024 Operating Budget – Have Your Say
The City's 2024 Operating Budget planning is currently underway. To stay up-to-date on 2024 Budget information, please subscribe to this webpage by completing the Notify Me form on the right-hand side of the page.
Important Dates
October 3 & 10 - Public engagement plan and timeline approved by Finance Committee and Council
December 5 & 11 - Preliminary public feedback and recommended guidelines presented to Finance Committee and Council.
December to January – Internal draft Operating Budget deliberations
February 1 - Draft Operating Budget posted for public feedback.
February 27 & 28 - Presentation of public feedback and operating budget meetings.
March 11 - Expiry of Mayor's veto of Council's budget amendments (if applicable).
March 26 - Expiry of Council's override period of Mayor's veto of Council's budget amendments (if applicable).
Other Ways to Have Your Say

If you have additional input on the 2024 Draft Budget Comment Card, please complete the Comment Card Form or email budget@belleville.ca.
2024 Adopted Budgets
2024 Capital Budget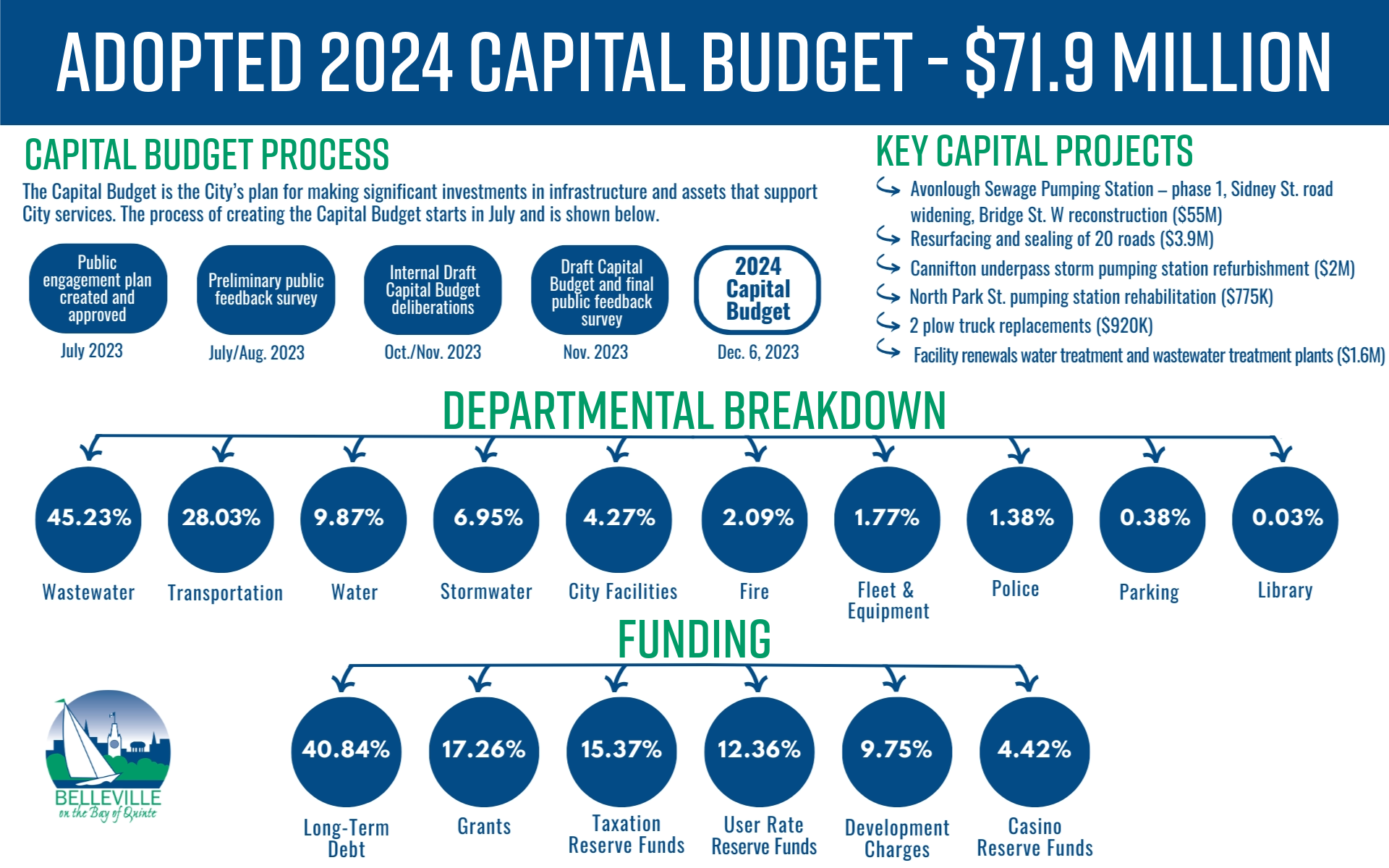 2023 Adopted Budgets
Historical Budgets
The City's historical Capital and Operating Budgets below may include amendments made throughout the year in accordance with the City's Budget & Financial Controls Policy.
Financial Statements
Financial Statements are prepared annually and reviewed by an independent auditor. All statements are in compliance with Public Sector Accounting Standards for municipalities.
FIR Reporting
About FIR Reporting
All Ontario municipalities are required to submit an annual Financial Information Return (FIR) to the Ministry of Municipal Affairs and Housing. To review the City's annual submissions and compare with other municipalities, visit the Province's Financial Information Return website.