The 2023 Operating Budget and Capital Budget have been approved by council. More information including the budget documents, presentations and meeting recordings can be found below. 2023 Operating Budget 2023 Capital Budget
City of Belleville Budget
The annual budget is a plan for how the City will collect and allocate resources in order to best improve and maintain City services and infrastructure for our community. In Ontario, Municipalities must balance their budget meaning that money going in must equal the money going out.
The budget is broken down into two components, the Capital Budget and the Operating Budget.
Capital Budget
What is it?
The Capital budget is the City's plan for making significant investments in infrastructure and assets that support city services.
Capital Expenses
Capital expenses are often known as capital projects and are major costs that are used to purchase maintain or improve city infrastructure or assets. Some examples of capital projects are:
Major maintenance or renovations to public buildings
Construction or purchase of new public buildings
Purchase of major equipment or machinery
Major road resurfacing projects
How Capital Expenses are Financed
The City uses funding from several different sources to finance the Capital Budget. These funding sources include:
Property taxes
User fees

Water
Wastewater
Parking
Reserve funds
Grants
OLG casino proceeds
Canada Community Building Fund
Provincial gas tax
Development charges
How the Capital Budget is Made
The Capital Budget reflects Council's priorities as outlined in the Strategic Plan and is largely based on a number of infrastructure-related plans and studies which include:
Asset Management Plan
Transportation Master Plan
Roads Needs Study
Wet Weather Master Plan
Parks and Recreation Master Plan
Infrastructure Phasing Strategy
Development Charges Background Study
2023 Capital Budget
The 2023 Capital Budget was approved by Council on Feb. 23.
An overview of the Capital Budget was presented at the regular council meeting on Monday, Feb. 13 and there was a full review at the Capital Budget Meeting on Thursday Feb. 23 where it was approved by Council.
The 2023 Capital Budget, meeting recordings and presentations can be viewed below.
Capital Budget Overview Presentation RecordingCapital Budget Overview Presentation
Capital Budget Meeting RecordingCapital Budget Meeting Presentation
Capital Budgets
Operating Budget
What is it?
The Operating Budget is the City's plan for the day-to-day costs required to deliver all city services to residents.
Operating Expenses
Operating expenses are made up of all the day-to-day costs required to operate the City. These are some examples of operating expenses:
Salaries
Utilities
Supplies
Vehicle maintenance
Parks maintenance
How Operating Expenses are Financed
Operating expenses are mainly financed by property taxes and are comprised of the following:
How the Operating Budget is Made
The operating budget is based on recommendations from city staff, the Finance Committee and community feedback. The operating budget is then presented to council for further feedback and approval before being implemented.
2023 Operating Budget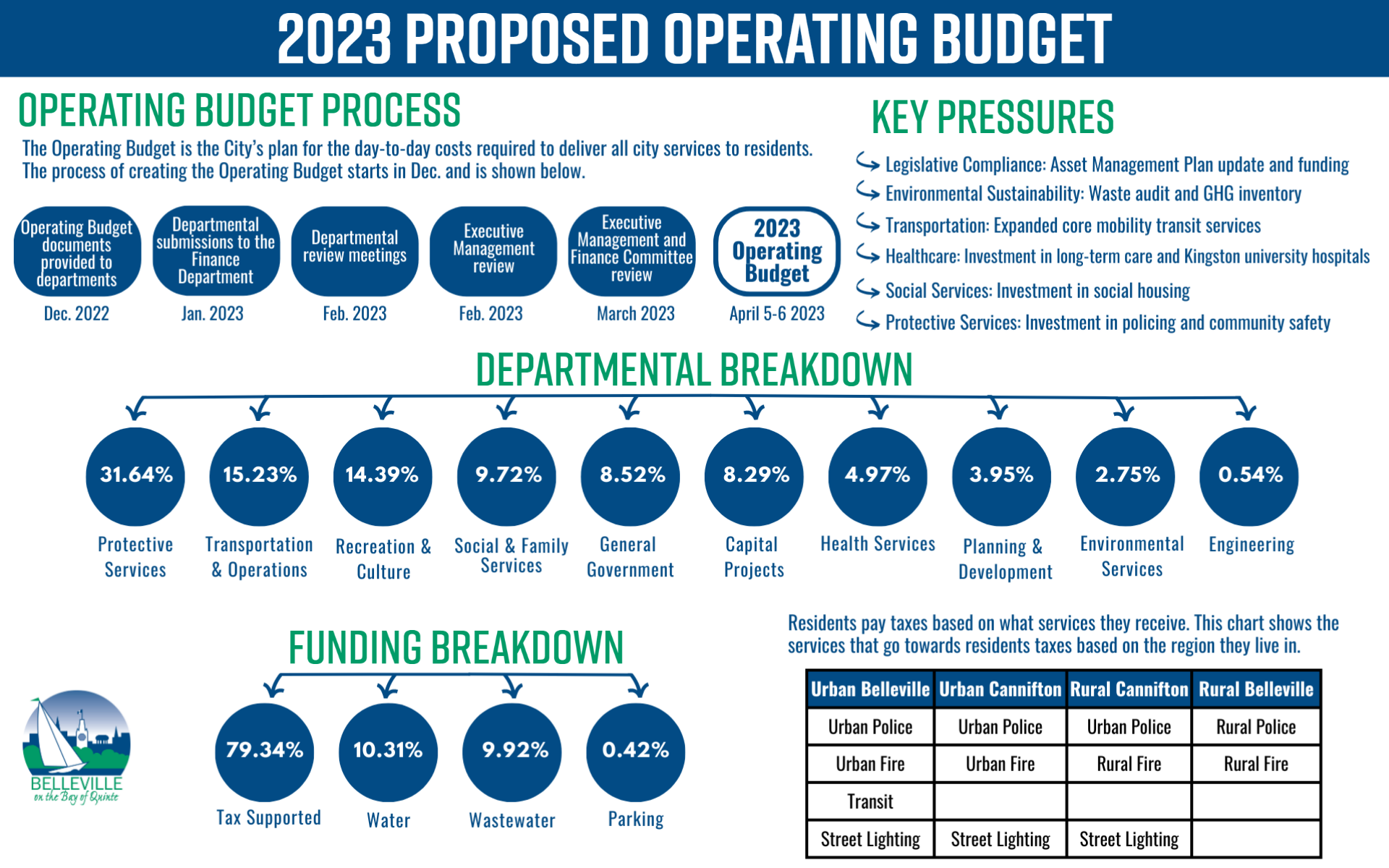 The 2023 Operating Budget was approved by council on April 7.
The Operating Budget will result in the following tax increases:
Belleville Urban +3.15%
Cannifton Urban +3.17%
Cannifton Rural +3.66%
Belleville Rural +3.33%
View the Operating Budget meeting recordings and presentation below.
Operating Budget Meeting Recording (Day 1) Operating Budget Meeting Recording (Day 2)
Operating Budget Meeting Presentation
Operating Budgets
Financial Statements
Financial Statements are prepared yearly and reviewed by an independent auditor. All Statements are in compliance with the Public Sector Accounting Standards for local municipalities.