The Festival of Lights serves as the unofficial kick-off to the holiday season. Visited by thousands annually, it truly is a must-see event for all residents and visitors alike.
The festival features an array of lights, movements and sounds, and runs from mid-November into the New Year in Jane Forrester Park. It is supported by the City of Belleville along with community sponsors who give so generously each year.
2020 Festival of Lights
November 20 - January 4
This year's Festival of Lights is a driving event to enjoy the holiday magic in Belleville and the Downtown District from the comfort and safety of your vehicle. Pick up some hot chocolate and take a leisurely drive along the festival route to experience 5KM of holiday cheer with lighting displays and holiday music.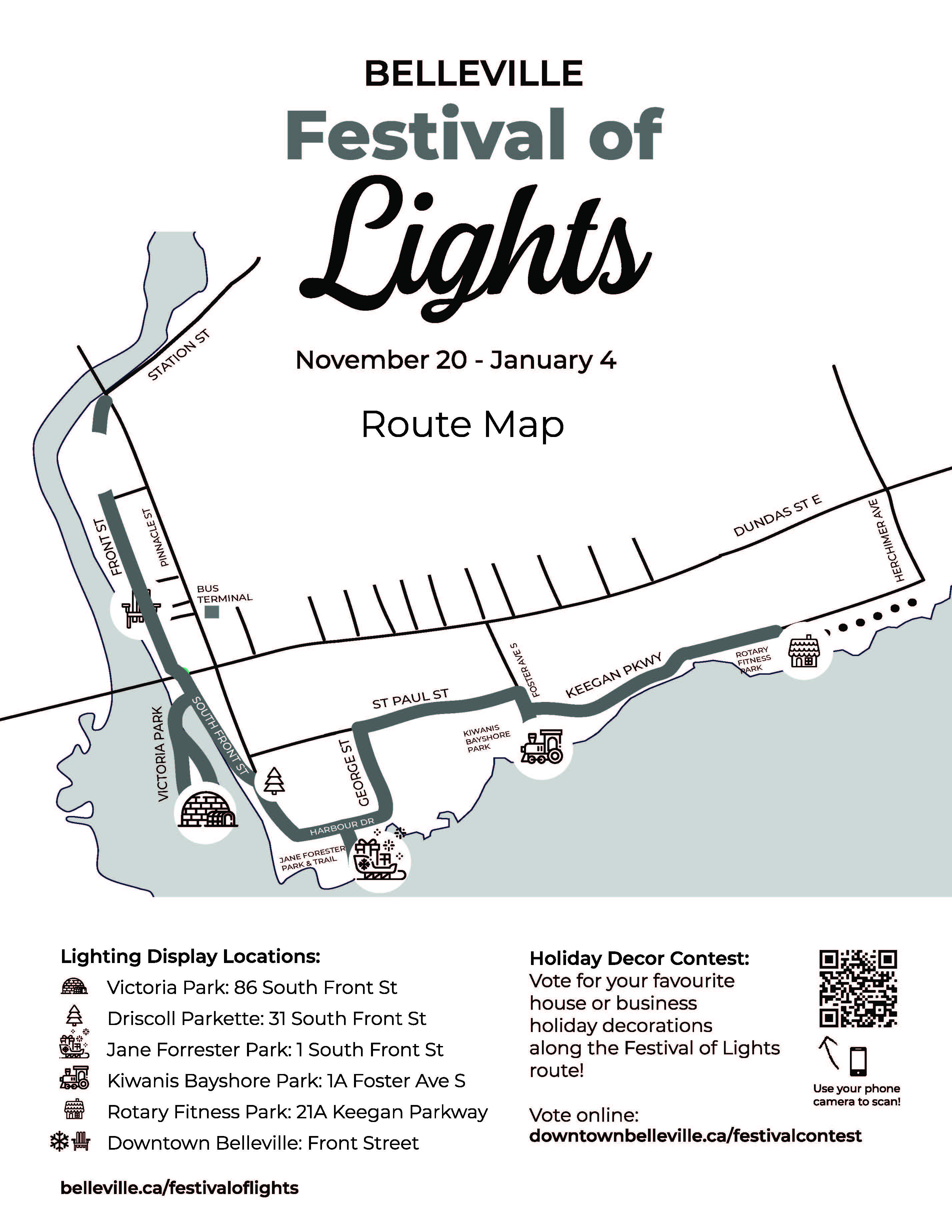 Locations:
Victoria Park: 86 South Front St
Driscoll Parkette: 31 South Front St
Jane Forrester Park: 1 South Front St
Kiwanis Bayshore Park: 1A Foster Ave S
Rotary Fitness Park: 21A Keegan Parkway
Downtown Belleville: Front Street
Download the printable route map.
Enchanted Downtown Belleville
Travel the festival route and head downtown for local shopping, dining and selfies in the giant Santa Chair. Plus free pedicab rides! Hop on a brightly lit pedicab for two and enjoy a free tour of Enchanted and the Festival of Lights.
For more about the Enchanted Downtown Belleville activities and to book your free pedicab ride, click here.
Vote For Your Favourite Holiday Decor
Houses and businesses along the Festival of Lights route have gone all out with holiday decor. Cast your vote for your favourite decor and the winners will receive $250! Voting is live from November 20, 2020 - January 4, 2021. Click here to cast your vote.
Photo Gallery: Festival of Lights will appear here on the public site.
Story time with Santa and Mrs. Claus
Sponsorship Opportunities
The Festival of Lights display relies on the generosity of donors to maintain this beloved community treasure. Funds raised go towards refurbishing existing displays, replacing bulbs and/or purchasing new displays. All donations, no matter the size, are greatly appreciated.
Those interested in donating to a specific display or the event as a whole can now do so online:
Donate to the Festival of Lights
We are very grateful to all our donors this 2020 season:
Holly Level - up to $499
Barbara Vandervelde - In memory of Ted Warwick
Annis and Peter Ross - In memory of Ted Warwick
Burr Insurance Brokers Ltd.
Heather Henderson
Lee's Starter & Alternator
Ornament - $500-$999
Jewell Engineering Inc.
Advantage Data Collections
Go-Evo
Cooke Properties-Royal LePage
Tipper Financial Services Ltd.
Stocking stuffer - $1,000-$2,499
Mackay Insurance Brokers Inc.
BCS Automation Ltd.
Candy Cane - $2,500-$4,999
Elexicon Energy
Horwood Electrical Services
Reindeer - $5,000-$9,999
Environmental 360 Solutions Inc.
Staff and Family of Reid Brothers Truck Service Inc.
Madison Excavating Inc.
Battlefield The Rental Store
Elf $10,000+
Fitzgibbon Construction Ltd.
Staff and Family of K.G. Reid Trenching and Construction
History
From a senseless car accident tragedy on Christmas Eve in 1958, has come a testament to family love and the true spirit of Christmas. Originally developed as a tribute to their son Billy, Don and Rita Foster poured the grief over the loss of their son into building a Christmas display that would delight the young and young at heart. The car accident also took the life of Billy's friend Art "Sonny" Culloden and the Culloden family has generously donated to the refurbishment of this historic display in Sonny's memory.
Over the years, this "Foster Family" display has grown and evolved and as Mr. and Mrs. Foster aged, was lovingly assumed by Bruce and Marjorie Nickle. The display was maintained by them for 11 years on Marsh Drive. It then moved to the Tom Gavey Alemite Park under the care of the Belleville Professional Firefighters Association. The display now rests with the City of Belleville and has been skillfully restored in an effort to keep the history and spirit of the original display alive.

Front Row L-R: Scott Scaletta E360S, Danny Ardellini CEO Environmental 360 Solutions Ltd.(E360s), Councillor Kelly McCaw, Councillor Pat Culhane, Councillor Sean Kelly, His Worship Mayor Mitch Panciuk, Councillor Chris Malette, Councillor Bill Sandison, Mrs. Annis Ross, Chair of the Lighting Display & Gateway Signage Committee, Mr. Jamie Simpson Madison Excavating Inc., Mrs. Heather Henderson, Committee Member
Back Row L-R: Jason Reid, K.G Reid Trenching and Construction, Greg DeMille Fitzgibbon Construction Ltd, Jeff Reid, K.G Reid Truck Services Ltd.
Festival of Lights documentary
As part of the Festival of Lights we are producing a documentary on the history of the display. It is expected to be 55-60 minutes in length and will be presented at Doc Fest in 2022.
Richard Hughes, President of the Hastings County Historical Society (HCHS), is managing the Documentary project and is the contracting authority. Any donations from the business community, private individuals, foundations, clubs, etc. can be made to the Hastings County Historical Society. The HCHS will issue Charitable Donation receipts.
Cheques are to be made payable to the Hastings County Historical Society, with a notation on the bottom of the cheque "Lighting Display Documentary donation".
Mail cheques to:
Hastings County Historical Society
254 Pinnacle Street
Belleville, Ontario.
K8N 3B1