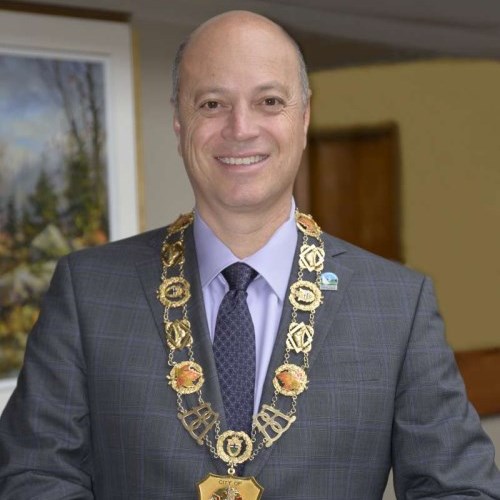 Mitch Panciuk is the 76th Mayor of the City of Belleville.
Mitch was elected Mayor on October 22, 2018 after serving one-term as a Belleville Ward City Councillor. He and his family moved to Belleville in 2001 to construct and operate the Boston Pizza Restaurant and Sports Bar on Bell Boulevard at the Quinte Mall.
Mitch is married to Lisa and they have three daughters. Raised in Edmonton, Alberta he is a graduate of the University of Alberta.
Since first moving to Belleville Mitch has actively participated in many organizations and causes. He has served our community through many groups and Boards and has donated much time, energy and financial resources to making life better for others. He believes we have a great City and wants to give back and serve the Citizens of Belleville.
He is a Past-President of the Belleville Chamber of Commerce, Past-Chairman and six-year Board Member of the Quinte Economic Development Commission, a former Vice-President of the Belleville Agricultural Society, Past-President of the Bay of Quinte Basketball Official's Association and served as an elected member of the National Franchisee Advisory Council for Boston Pizza International among other achievements.
As the Mayor and member of Belleville City Council, he brings his energy, ideas and creative problem-solving skills to the table each and every day.
---
On behalf of my colleagues on Belleville City Council, we would like to thank the Citizens of Belleville for their unwavering support. It is an absolute honour to serve the residents of this great City. During our tenure on Council, we promise to lead this City with the utmost honesty, integrity and transparency.
As your Mayor, I vow to build our future together with safe, responsible growth. I believe it is not only essential to build a more affordable community, but also to find innovative and creative solutions to fund imperative future improvements. I am looking forward to taking a more collaborative approach in building the future of Belleville together.
I have called Belleville home for the last 17 years and there is no other place I would rather be. It is my privilege to lead our City over the course of the next four years as your Mayor. I am truly thrilled with our Belleville City Council and I am sure that you will be too!
Thank you for visiting our website and I hope that you will continue to do so to receive up-to-date information about your City.
With sincere regards,
Mitch Panciuk
Mayor, City of Belleville