About the project:
The City of Belleville is developing its first Parkland and Recreation Master Plan! This document will guide municipal investment to enhance the City's public park system, including land acquisition, development/ redevelopment, community use, and funding over the next 10 years. The project will be undertaken in 2 phases:
Phase 1: Parkland, Open Space and Outdoor Recreation
Phase 2: Indoor Recreation Facilities and Master Plan Development
The approach to developing the Plan:
The City has commissioned Sierra Planning and Management - a multi-disciplinary planning firm, in collaboration with The MBTW Group and WGD Architects, to develop the Master Plan. The Plan will be developed through a comprehensive public engagement process, complemented by a thorough analysis of current and projected community needs and best practice.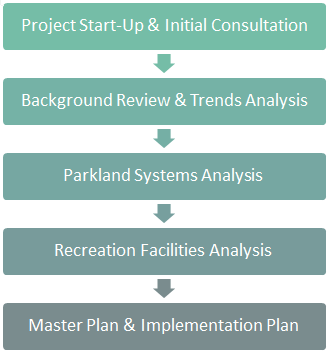 Get Involved!
Belleville's Parkland and Recreation Master Plan must reflect the needs and priorities of Belleville residents and will be developed through extensive consultation. Over the course of the project the consulting team will engage a range of sector stakeholders (community groups, public, private, not-for-profit) as well as the public in identifying current needs, issues and priorities as it relates to developing parks and recreational opportunities in the City.
The project will employ a range of means to gather public input including a series of public engagement sessions. Keep checking this webpage to follow the progress of the project and see how you can provide your input on the Master Plan.
Upcoming community engagement includes:
Online Survey for Residents: The survey is now closed. Thank you for participating!
Online Survey for Sport and Recreation Groups: Launched October 30, 2020 (by invitation only)
Initial Sessions for User Groups (online): Stay Tuned
Initial Community Session (online): Held November 18, 2020 - Watch the recorded meeting, download the presentation and view the polling results below.
Draft Phase 1 Report: The project team provided an update for Council during their April 13 meeting. Download and view the report.
Public Meeting Polling Results:
For more information:
For more information regarding the City of Belleville Parkland and Recreation Master Plan project, please contact the Transportation and Operations Services by email at PRMP@Belleville.ca.