Winter is Snow-much fun in Belleville!
We have plenty of outdoor winter activities for all ages. Residents will benefit from staying active and enjoying the outdoors this winter.
Grab a hot beverage, take a walk on one of our groomed trails and enjoy the breathtaking winter views. Drive through the joyful scenery of our annual Festival of Lights! How about family sledding on one of our perfectly sloped tobogganing hills; or strap on your skates and visit one of our outdoor ice rinks.
If you want to get outside and be active this winter, then Belleville is the place to be!
Tobogganing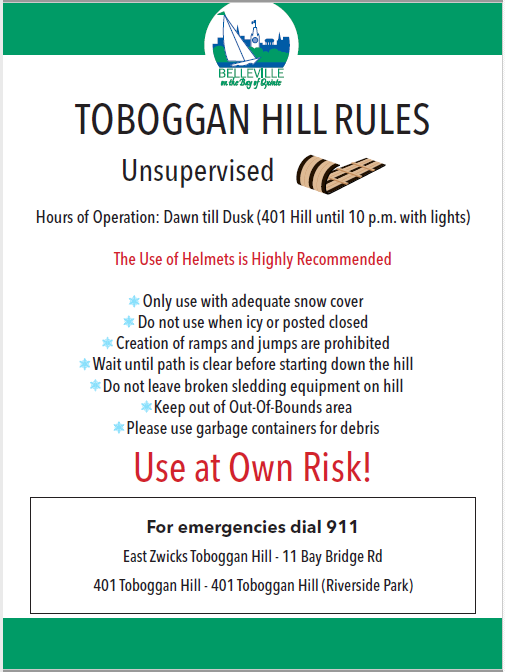 These City Parks offer perfect slopes for sledding:
Please use caution when tobogganing or sledding. These hills are not maintained or groomed for sledding and are to be used at your own risk.
Parental supervision is required
Consumption of alcohol is prohibited
In case of emergency, call 911
Please contact 613-967-0036 to report unsafe conditions/vandalism
Posted signage must be followed at all times.
Toboggan Hill Rules
Hours of Operation: Dawn til Dusk (401 Hill 10 p.m. with lights)
The use of helmets is highly recommended
Only use with adequate snow cover
Do not use when icy or posted closed
Creation of ramps and jumps are prohibited
Wait until path is clear before starting down the hill
Do not leave broken sledding equipment on hill
Keep out of "Out of Bounds" area
Please use garbage containers for debris
The Tobaggan Hill is unsupervised. Use at Own Risk!
For emergencies dial 911
East Zwicks Toboggan Hill - 11 Bay Bridge Rd
401 Tobaggan Hill - 401 Toboggan Hill (Riverside Park)
Recreational Trails
Belleville conducts winter maintenance on select trails throughout the city. These trails provide an opportunity for longer walks during the winter months.
The following trails are cleared for recreational use during the winter:
Please do not use the trails during icy conditions.
Winter maintenance activities are based on priorities.
Gravel trails are only plowed after the ground has frozen and a base layer is formed.
Posted signage must be followed at all times.
Outdoor Skating
Several outdoor seasonal ice rinks are available and free to the community. Follow social media for regular updates on rink status.
Parks and Open Spaces maintains two skating rinks in the harbour. These rinks are maintained seasonally and open for public use as the weather and ice thickness permit.
These community-run outdoor ice rinks offer a great back-to-nature skating experience:
All outdoor ice rinks are unsupervised. Use at Own Risk!
Skating is not allowed on any ponds, streams, and creeks for the public's health and safety. Visit the Stormwater Management Ponds page for information on the purpose of stormwater management ponds.
Posted signage must be followed at all times.
Ice Fishing
For ice fishing adventures, Belleville has two public Boat Launches that access the lake:
Make sure to know the area, check the ice and let others know of your plan. Always follow the Ontario Fishing Regulations.
Festival of Lights
The Festival of Lights serves as the unofficial kick-off to the holiday season. It runs from mid-November into the New Year. The Festival of Lights features an array of lights, movements and sounds. Visited by thousands annually, it truly is a must-see event for all residents and visitors alike.
Round up your family and take a drive or a stroll through this magical winter wonderland!
If you're not the outdoorsy type, we have plenty of indoor activities during the winter too! Head over to the Quinte Sports and Wellness Centre for an Indoor Walking Track and the Templeman Aquatics Centre. Check out the Activity Guide for fitness classes and more.
Whatever you choose to do, have fun and enjoy all the different activities Belleville has to offer.