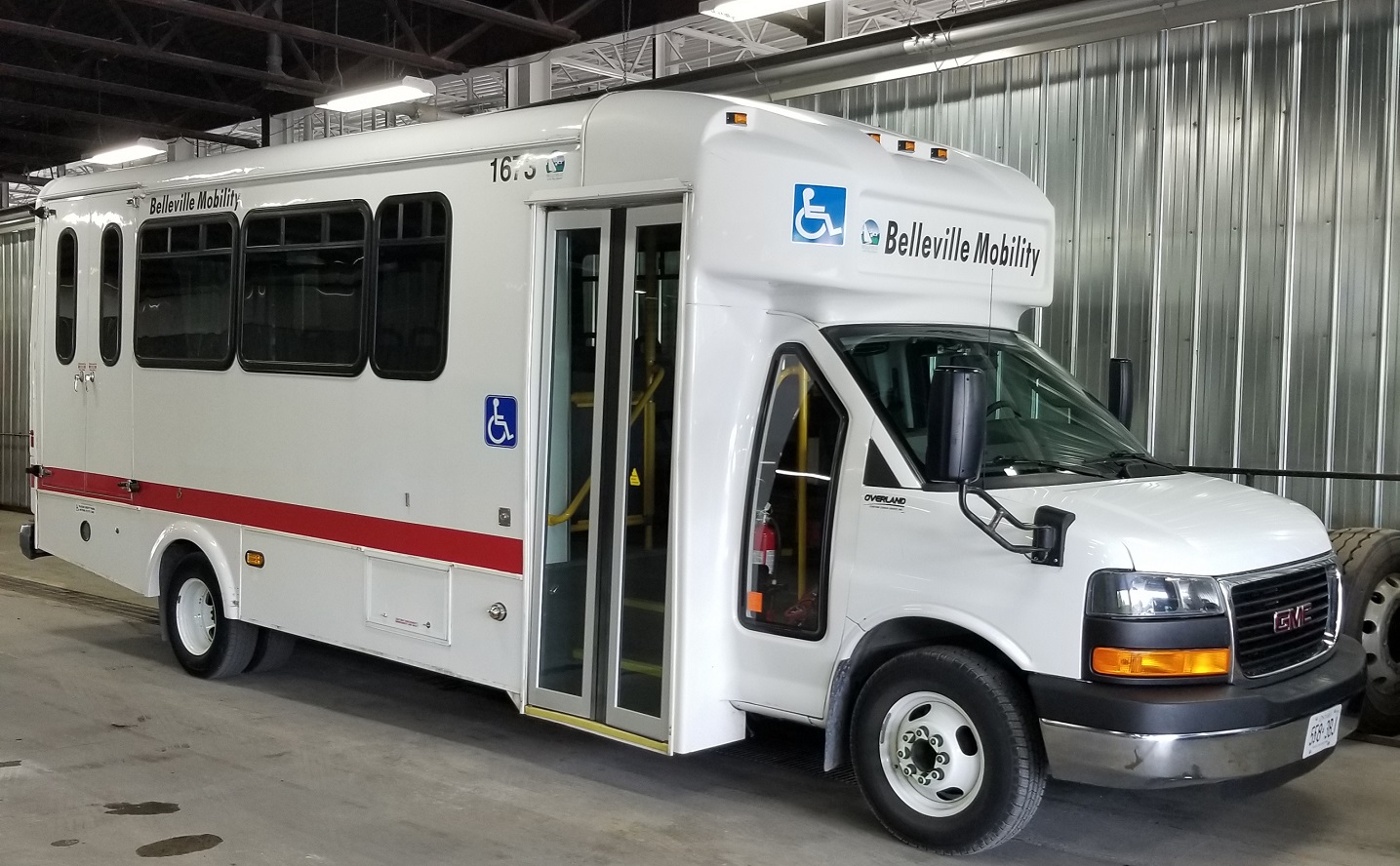 Belleville Transit offers an on-demand door-to-door service called the Mobility Bus. This alternative service option allows us to offer accessible public transportation for those who may face barriers to using our fixed-route transit system. Riders can schedule a trip, be picked up at their location, dropped off at their requested destination, and, if necessary, schedule a return trip. It is still a shared public transportation service, and trips are scheduled in a way that will accommodate as many booking requests as possible. You must apply and be eligible to use the Mobility Bus service.
Our buses can accommodate wheelchairs and scooters that do not exceed 36" (90 cm) X 48" (120 cm). Our vehicle service lifts can accommodate a maximum combined weight of 700 pounds (317 kg).
Note: Passengers using a scooter; or a wheelchair that is not tie down hardware equipped, are required to transfer from the scooter to a seat in the bus. The scooter and wheelchair must be safely loaded and secured or it cannot be transported.
Registering for Mobility Bus
You must be a registered Mobility Bus user and have a valid I.D. Card before booking a ride. There are several requirements to qualify; please contact us if you have questions or would like assistance with the application process. Please read this section carefully for information on how the service works and how to apply.
Eligibility
You are eligible to use the Mobility Bus if you are a resident of the City of Belleville (Ward 1 or 2), and are a person with a disability who experiences challenges in using our fixed route transit system.
When determining eligibility, we consider barriers that affect an individual's ability to use our fixed route transit system. These factors can include, but are not limited to:
Distance to an accessible bus stop
Accessible paths of travel to and from bus stops
Navigation and way-finding of the fixed-route transit system
Safety considerations, including mental health, behavioural, and physical safety
Ability of conventional transit buses to appropriately accommodate the use of various mobility or assistive devices when boarding, ease and safety during the trip, and when disembarking
Level of support to use public transit successfully and as independently as possible
Protection from weather and condition of paths of travel and bus stops in bad weather
Any other individual factors provided through the application process
Submitting an application
Complete the Mobility Transit application online

Once your have completed the Personal Information, print the form and have the Request for Professional Certification portion completed by a health care professional

You can obtain a paper copy of the form, and mail or drop off your completed application form to one of our locations:
Your form must be signed by an appropriate health care professional
Your completed application form, including medical portion, must be returned to one of the listed locations for review and approval
Your eligibility will be determined within 14 calendar days after we receive your application.

If your form is not fully complete we will return it to you
We may contact you for further information if your eligibility is not clear
We will notify you in writing if your application is denied
Obtaining your mobility I.D.
After your application is approved you will receive a Mobility Bus package in the mail that provides your Identification Card with an I.D. number and all the information you will need to book your rides.
You must provide your I.D. number when booking rides, and you will need to provide your pass, ticket, mobile pay QR Code, or cash fare to the to the bus driver prior to each ride.
Information changes
Please keep us informed of any changes to your address, name, home, phone numbers, attendant requirements, and emergency contact information. Changes can be provided to Transit Dispatch by email or call 613-962-1925.
Visitors
If you are a person with a disability visiting the City of Belleville and experience challenges using our fixed-route transit system you may be eligible to use the Mobility Bus. You will be required to demonstrate you are registered with a similar transit service in a different community. Please contact us for more information by email or call 613-962-1925.
Using Mobility Bus
Booking your ride
Once you are registered for the service you can book a ride through the Dispatch Office by email or call 613-962-1925. All bookings are made on a "first come, first serve" basis.
We require a minimum of 24 hours' notice to accommodate your bookings. You may request a same day service; we will try to accommodate as resources permit.
If you require recurring bookings, please contact Transit Dispatch by email or call 613-962-1925.
Dispatch hours of operation are 7:30 AM to 7:30 PM seven days a week.
Waiting for your ride
The mobility bus may arrive up to 10 minutes before the scheduled pickup time or up to 10 minutes after the scheduled pickup time.
We ask that you are ready and waiting at the accessible door (e.g. lobby of apartment building or medical facility) 10 minutes prior to the scheduled pickup time.
The driver will wait for you for three minutes past your scheduled pickup time. If you are not ready, the driver must leave to maintain their schedule and a "No Show" report will be recorded.
You are asked to contact the Mobility Services dispatch office immediately, and either speak with a dispatcher or leave a message on the voicemail, if you will be delayed arriving at your pickup location.
Note: The Mobility Services bus can be delayed as a result of traffic and road conditions. Drivers will wait up to a maximum of three minutes past the scheduled departure time before leaving.
Riding the bus
Your fare is required at time of boarding. You can purchase a bus pass, mobile pay pass, single rides, tickets, or use cash fare. The fares and hours of service for the Mobility Bus are the same as our fixed-route transit.
Although this is a door-to-door service, please remember it is not a direct ride. The bus operates as a public transit service and you will be riding with other passengers during the trip. The length of your trip will depend on the number of bookings for that time and day.
Passenger assistance
Belleville Transit Specialized drivers DO:
Operate power lifts on their vehicle and secure wheelchairs to the floor of the vehicle using the vehicle restraint system.
Assist clients with lap/shoulder straps and belts.
Assist clients on and off vehicles.
Assist clients between the vehicle and the inside of the first exterior set of accessible doors at the place of origin and/or destination.
Belleville Transit Specialized drivers DO NOT:
Enter your premises under any circumstances.
Lock any doors to your premises on your behalf.
Make any repairs or adjustments to your equipment.
Transfer clients from a wheelchair or mobility device to any kind of lift device. Clients must have an attendant or caregiver who will assist them if required.
Help with parcels or baggage. Limit your possessions to those that you can carry or travel with a companion that can assist you. Packages should only be those that you can carry and store on your lap. Bags cannot be stored in the aisle of the bus.
Take your equipment down the steps and then go back up for you. All equipment must be at ground level when the operator arrives.
Provide medical assistance, administer medication, or adjust medical equipment.
Cancelling your ride
Please cancel your scheduled ride as far in advance as possible. You can cancel by contacting Transit Dispatch by email or call 613-962-1925.
Early notice may permit other passengers to use your reservation time. Drivers cannot accept cancellations.
Failure to cancel
Should you forget to cancel, or the driver arrives and you are not there, the driver will wait for 3 minutes past your booked time then will submit a "No Show" report. In fairness to others, it could be necessary to discontinue service to passengers who frequently forget to cancel their reservations.
After 3 "No Show" Reports a customer service person will contact the passenger to advise of the no show reports and advise further instances could result in a service disruption.
If there are 3 more "No Show" instances a letter will be sent to the passenger advising that their service has been suspended for two weeks, and they will not be able to book rides.
If following this process the passenger continues to collect "No Show" reports their service could be suspended indefinitely.
Travelling with a support person or companion
You may designate a person to travel with you as a support person for additional assistance during a trip or at the destination. You must indicate on your registration form that you would like to travel with a support person and this must be confirmed by a medical professional.
You are only allowed one support person per trip, but your support person may change each trip. Your support person will travel free of charge when accompanying you.
You may have a companion travel with you, but this is subject to seat availability and your companion will be required to pay the regular fare. A person would be considered a companion if they are not there to offer direct supports and / or a medical professional has not validated your request to travel with a support person.
When booking a trip, you must notify us that you will be traveling with a support person or companion. Your support person or companion must have the same pick-up and drop-off locations as you.
Drivers will escort passengers to and from street level doors. If there is a step at departure or destination places, wheelchair users must arrange to have another person available to assist.
Guide dogs and service animals
Guide dogs and service animals are permitted on Belleville Transit Buses.
When it cannot easily or clearly be seen that the animal is a service animal, a document from a regulated health professional confirming that the person requires the animal for reasons relating to their disability must be presented to the driver when boarding a Belleville Transit vehicle.
The following are regulated health professionals authorized to issue a service animal letter:
A member of the College of Audiologists and Speech-Language Pathologists of Ontario
A member of the College of Chiropractors of Ontario
A member of the College of Nurses of Ontario
A member of the College of Occupational Therapists of Ontario
A member of the College of Optometrists of Ontario
A member of the College of Physicians and Surgeons of Ontario
A member of the College of Physiotherapists of Ontario
A member of the College of Psychologists of Ontario
A member of the College of Registered Psychotherapists and Registered Mental Health Therapists of Ontario
Any animal that cannot easily or clearly be seen to be a service animal, and a document from a regulated health professional confirming that the person requires the animal for reasons relating to their disability cannot be provided, the pet must be leashed and muzzled, or secured in pet carrier.
Service Areas and Hours of Operation
This service is available seven days a week within the boundaries of Belleville (Ward 1 and Ward 2) and mirrors the hours of the conventional transit system. We do not operate on statutory holidays. Weekday service operates from 5:00 am to 12:00 am, Saturdays 5:30 am to 12:00 am, and Sundays from 9:00 am to 12:00 am.