The Water Finance and Customer Service section is responsible for water and wastewater billing, collections, payment processing and customer service.
Water Customer Service Office
183 Pinnacle Street
Belleville, ON K8N 3A5
Telephone: 613-966-3657 ext. 2230
Fax: 613-969-1944
Mailing Address:
PO BOX 939
Belleville, ON K8N 5B6
Payment Options
Pre-Authorized Payments – Fixed monthly and actual bill plans are available. Please fill out our Pre-Authorize Payment Plan Application or call 613-966-3657 ext.2243
Banks and other Financial Institutions – Payments can be made in person or through your banks telephone or internet banking services – Please make sure your account number is correct.
Credit Card – Visa and MasterCard payments may be made online using paymentus or by phone 1-877-831-6390. Please note a convenience charge will apply.
Drop box – located at City Hall. Cheques only please.
Mail – Send your cheque to the City of Belleville, Water Customer Service, P.O. Box 939, Belleville, ON K8N 5B6
In person – We are permanently closed to the public. Payments can be made in person at the Quinte Sports and Wellness Centre Monday to Friday 8:30am-4:30pm.
New Customers
New online applications for residential water service:
Belleville Water online Application - Owner & Belleville Water online Application Tenant
If you have purchased a commercial property in the City of Belleville, you will need to fill out a Commercial Service Contract.
Tenants
Tenants of single-family homes are required to set up the water account in person at the Water Customer Service office. Due to COVID please call 613-966-3657 to set up an account
We require a security deposit for all tenants that have not shown a good payment history with the City of Belleville. You will have to pay the deposit within 2 weeks of setting up an account.
Tenants must show proof of identification.
Owners
If a tenant moves out the account will go back into your name, unless we receive a service contract from a new tenant. Each time the name on the account changes a Change of Occupancy fee will apply.
Water accounts for multi-unit properties will be in the owner's name as per By-law 2020-237 Part III (7). You may have the water bills sent to the tenant but you are responsible for all unpaid water bills.
Owners of multi-unit properties can only have tenants set up water service accounts if the water meters for all units are in a separate locked meter room. The room must pass inspection by City of Belleville staff. Only the property owner and City of Belleville staff will have access to this room. The City of Belleville staff will need a key for general maintenance or for disconnection of service.
Closing an account
If you are a property owner and have sold or rented your property, or a tenant who is moving out of you current residence, please complete the form to close your account.
Connecting to City Services - New Installations
Learn more about how to connect to municipal water and sanitary sewer services including how to apply, connection fees and more.
Online Services
Paperless Bill
If you would like paperless water bills please fill out the attached e-billing registration form or email your request to waterbilling@city.belleville.on.ca (please include your name, address, and account number)
View Bills Online
We have recently upgraded our systems in order to maintain and improve the security and data. You will need to set up an eServices account.
Bill Calculation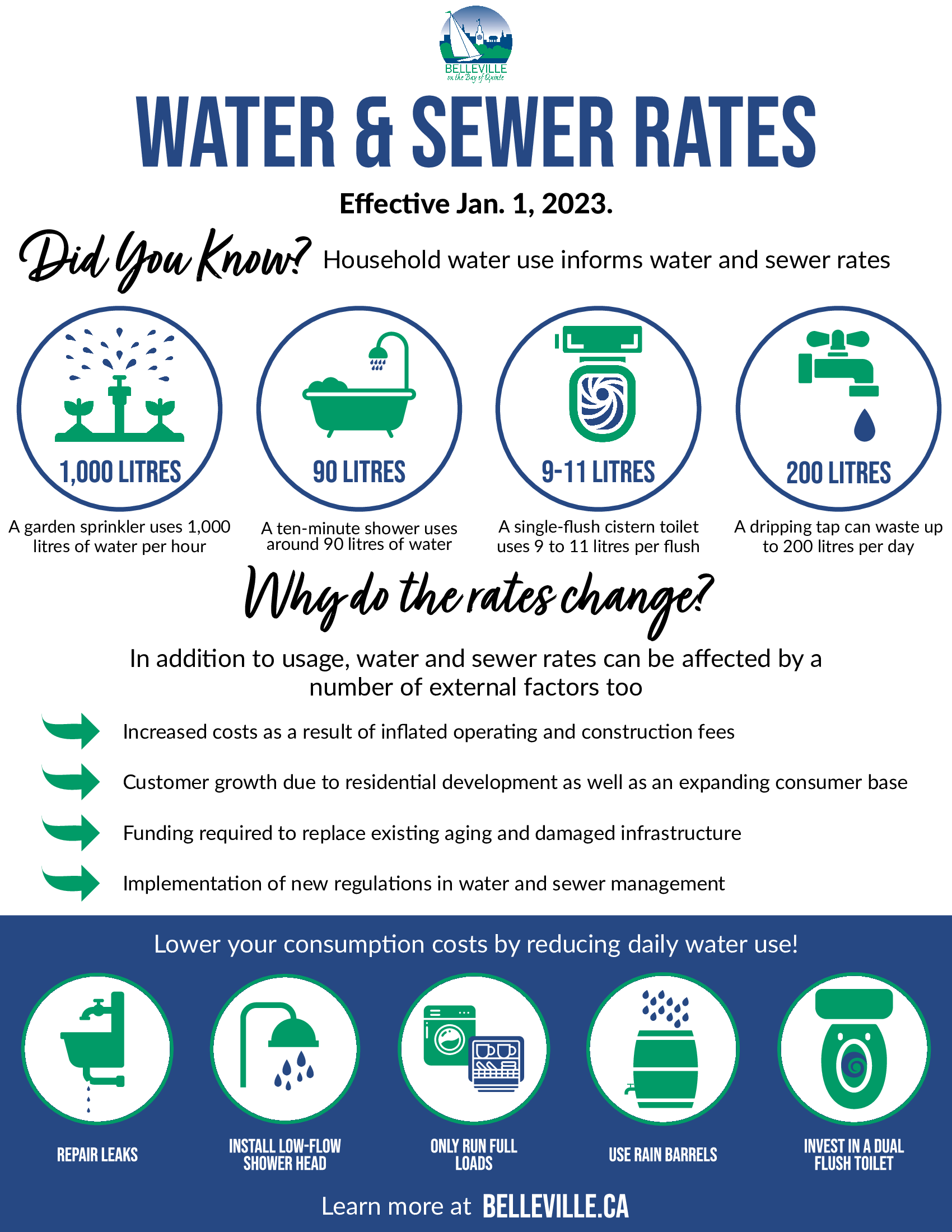 NEW - 2023 Water and Sewer Rates (Digital View)
2023 Water and Sewer Rates (Printable Download)
Metered Charges
| Consumption | Cost |
| --- | --- |
| First 455 cubic meters | $1.97/m3 |
| Next 22,275 cubic meters | $1.50/m3 |
| Over 22,730 cubic meter | $0.90/m3 |
Residential Sewer surcharge is 87.6% applied to the water consumption and service charges.
General Service Sewer surcharge is 87.6% applied to water consumption and service charges on the first 22,730 cubic meters and 60% after 22,730 cubic meters.
Monthly Fixed Charges
| Meter Size in inches | Service Charges | Fire Protection |
| --- | --- | --- |
| 5/8 | $26.26 | $6.25 |
| ¾ | $26.26 | $6.25 |
| 1 | $28.89 | $8.28 |
| 1 ½ | $42.02 | $16.56 |
| 2 | $55.15 | $24.87 |
| 3 | $81.41 | $41.45 |
| 4 | $149.42 | $82.88 |
| 6 | $249.47 | $145.02 |
| 8 | $354.51 | $207.24 |
| 10 | $472.94 | $287.84 |
Bulk Water Rates
$2.75 per Cubic Meter, billed monthly
Water Consumption
Your residential water consumption will change depending on the number of people living in the home and the amount of time you spend at home.
High water bills are usually the result of:
Leaking toilets (running/not shutting off, water level set to high)
Leaking taps
Change in the household (more people living there or visitors)
New appliances (dishwasher, lawn sprinkler)
Broken automatic trap filler
Leaking outdoor tap
Leaks
There are two easy tests to tell if your toilet is leaking. A leaking toilet can waste 100's of cubic meters a month and is the number one cause of high water bill.
Remove your toilet tank lid. Put a few drops of food colouring into the water and wait 15 minutes. Look in the toilet bowl, if the water changes colour, you have a toilet leak.
Look inside the tank, if the water is flowing into the overflow tube when the tank is full, then you will need to adjust the float..
Take a walk through your home to check for leaking faucets. Do not forget to check your outside tap.
Here is an easy test to detect a hidden leak.
Take a reading from the water meter after the last person has used water for the night (write down all of the numbers)
Take another reading in the morning before anyone uses water.
If no water is used overnight and the reading has changed, then you have a water leak.
Water Meters
Water Meters are the property of the City of Belleville and are installed by Water staff. There is no charge for the meter or installation work. Most services are a 5/8 inch meter, which is normally installed where the water supply enters the building. It is your responsibility to make sure enough heat is in the meter location to avoid meter damage. If a meter must be replaced due to damage, a fee will apply. Please refer to schedule "B" of the By-Law.
Frequently Asked Questions
Q. Who should I call if I have a question about my bill?
A. Water Customer Service billing staff 613-966-3657 ext. 7
Q. Who should I call if I want to make payment arrangements?
A. Water Customer Service collection staff 613-966-3657 ext. 2243
Q. How often will I get a water bill?
A. Water bills are sent bi-monthly for residential customers and monthly for commercial customers.
Q. I can't find Belleville Water on my online banking.
A. Try searching the word "water" or "city of Belleville"
Q. Who do I call if there is a problem with my water meter?
A. For concerns about meter functionality please call Water Distribution Customer Service Foreman 613-966-3657 ext. 2279
Q. I signed up for e-billing but haven't received a bill?
A. Check your junk or spam mail folder.