If you are a Thurlow (Ward 2) resident, you can recycle and dispose of a wide variety of materials at the Thurlow Recycling Depot and Landfill.
This service is in addition to Thurlow's existing curbside garbage, recycling and organics collection services.
Location and hours
Wednesday: 8:00am to 1:00pm
Saturday: 8:00am to 1:00pm
Closed for Statutory Holidays
Regulations and policies
You must observe the following rules when visiting the site:
We do not accept Household Hazardous Waste at this location. Hazardous waste can be dropped off at the Hazardous & Electronic Waste Depot;
Garbage or recycling material being disposed of must have been generated within the boundaries of Thurlow Ward, City of Belleville;
You will be required to show ID;
Electronic payments only;
All garbage must be separated at the site per the instructions of the Waste Disposal Site Operator;
No building material will be accepted at the site (i.e. manufactured wood, drywall, insulation, shingles).
No tires or tire tubes will be accepted at the site.
As of January 1, 2023, Mattresses and Box Springs are not accepted at the landfill
Waste disposal site tipping fees

| Quantity | Cost (tax included) |
| --- | --- |
| Single bag | $3.00 per bag |
| Utility Trailer, car, ½ ton (level) truck | $25.00 per load |
| Single Axle Dump Truck | $100.00 per load |
| Tandem Dump Truck | $150.00 per load |
** Tractor Trailer not permitted
Tipping fees - Large items

| Items | Cost (tax included) |
| --- | --- |
| Appliances, chesterfields, chairs, toilets, sinks, bathtubs | $20.00 each |
| Galvanized cold water tank | $20.00 each |
| Hot Water Tank | $20.00 each |
| Passenger Tires, Truck Tires, Tractor Tires, Tire Tubes | Take tires to a registered tire collector. Visit rethinktires.ca for a collector near you. |
NOTE: An additional $35.00 surcharge will apply when items contain Freon (i.e., refrigerators, freezers, air conditioners) and have not been tagged by a certified person to be empty of refrigerant.
Residential Recycling Depot
At the Recycling Depot, we accept the following items free of charge:
• Corrugated Cardboard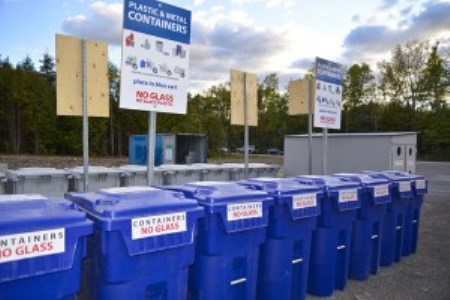 • Printed Paper & Packaging
• Plastic & Metal Containers
• Plastic Bags
• Glass Bottles & Jars
• Scrap Metal
• Electrical & Electronic Equipment
Electric and Electronic Equipment - Accepted Materials:
Computers, scanners.
Printers (desktop and floor-standing).
Printer cartridges.
Video gaming devices.
Telephones, including cellular phones.
Display devices.
Radios and stereos, including after-market vehicle stereos.
Headphones.
Speakers.
Cameras, including security cameras.
Video recorders.
Drones with audio or visual recording equipment.
Peripherals and cables used to support the function of information technology, telecommunications and audio visual equipment, including charging equipment.
Parts of information technology, telecommunications and audio visual equipment sold separately, such as hard drives.
Handheld point-of-sale terminals or devices.
Musical instruments.
Audio recording equipment.
Electric and Electronic Equipment - Excluded Material:
Small and large appliances
Power tools
Information technology, telecommunication, audio-visual equipment weighing more than 250 kg
Motor vehicles
Children's toys
Textiles, clothing, furniture or any other upholstered or stuffed articles containing electrical and electronic equipment.