Organic waste makes up 40% of household waste. Separating the organic waste that your household produces is easy to do; plus it eases the burden on our landfills and saves you money over time.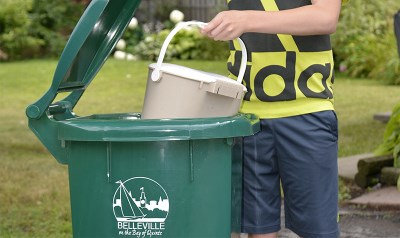 You can do your part by using our organic waste program!
Your green bin organic waste is collected weekly on your scheduled curbside waste pickup day. Place your green bin out weekly, even if it's not full. There's no additional charge for this service and no bag tag is required for the green bin.
Acceptable Organic Items
Food scraps
meat, poultry, shellfish and bones
egg, cheese and other dairy products
table scraps and plate scrapings
fruits and vegetables
bread, dough, pasta and grains
coffee grounds, filters and teabags
Soiled paper products
kitchen paper towels
paper bags
greasy pizza boxes (not accepted in Blue Box)
coated paper take-out containers (ie. French fry boxes)
paper napkins and waxed cardboard
uncoated paper cups, plates and carry-out trays (no lids, straws or creamers - take-out coffee cups are not compostable)
freezer burnt meat wrapped in paper is allowed
Restrictions
You cannot use plastic bags of any kind in your kitchen catcher or green bin that does not display the Certified Compostable logo.
Biodegradable bags, Oxo-biodegradable bags and recyclable bags are also not compostable
If your green bin contains any items which are not compostable the truck drivers will not empty your green bin.
Non-acceptable items
Bar-B-Q ashes
batteries
burlap
butcher paper
coated/plastic take-out containers
cork
cups and utensils
diapers
dryer lint
foam packaging
foil, wire and rubber bands
glass bottles or jars
grease and liquids
latex/plastic gloves
leaf and yard waste
medicines/vitamins
metal
painted/treated wood
paper dairy cartons
paper soiled with cleaning products
pet feces or litter/bedding
plastic plates
plastic wrap
product baskets and netting
restroom tissues
rhubarb leaves
sanitary products
single use coffee containers
take-out cups
tubs or bottles
vacuum cleaner bags
wild game carcasses
F.A.Qs
How do I get a green bin?
If you have just moved into a new home and need a green bin, please email us or call 613-967-3275 for a service number. Once you have a service number, green bins can be picked up free-of-charge from the City's Operations Centre at 31 Wallbridge Cres., Belleville.
Your green bin is the property of the City of Belleville and is assigned to your residence. Your green bins should stay with the home when you move.
Damaged or broken green bins
If your green bin gets damaged or cracks under normal use, please email us or call 613-967-3275 to get a service number and arrange for a replacement. Once you have a service number, your damaged/broken green bin can be exchanged free-of-charge for a new bin at the City's Operations Centre. Please bring your broken bin with you.
Lost or stolen green bin
Write your address on your green bin when you receive it to help deter theft. We do not replace lost or stolen green bins.
Is my residence eligible for the green bin program?
Typically, residences that receive curbside garbage and recycling service are eligible for the green bin program. High-rise apartments, condos and other multi-family dwellings may not be eligible for the green bin service. To verify if you can participate in the green bin program, please email us or call 613-967-3275.
When is my green bin collected?
Your green bin organic waste will be collected weekly on your scheduled pickup day. Place your bin out weekly even if it's not full.
Do I need to put a bag tag on my green bin?
There is no additional charge for this service and no bag tag is required for the green bin.
What do I do with my green bin when I move?
Please leave your green bin and kitchen catcher behind when you move. The green bin is assigned to the civic address, not the property owner. If the previous owner did not leave the green bin or kitchen catcher at your new residence, please email us online or call 613-967-3275 for a service number.
How do I keep animals and rodents out of my bin?
Green bins are durable and designed to be animal and rodent resistant but there are additional steps you can take to discourage four-legged creatures. Securely latch the lid on your green bin before setting it out. Store it in the garage or enclosed area if possible. If your bin is stored outside secure it to a fence or other structure to insure that it stays upright. Make sure all of the contents are inside the bin (no bags sticking out) and set your green bin out the morning of your garbage collection.
Will the green bin smell or leak?
Some of the contents that are in your green bin may cause odours, just like they would if placed in your regular garbage bag/can. You can help reduce odours by rinsing and washing your green bin and kitchen catcher regularly, lining the bottom of the green bin and kitchen catcher with newspaper, cardboard, paper egg cartons or paper towel to absorb liquids, freezing meat, fish and bones and placing your green bin out for collection every week.
How do I control fruit flies?
Keep your lid tightly closed on your kitchen catcher or green bin. Fruit flies are seasonal and will disappear eventually. If your compost is mostly food scraps and too wet, it may be short on dry carbons. Try adding shredded paper.
Can I use a plastic bag to line the green bin so I don't have to clean it?
We encourage you to save money by not using a liner in your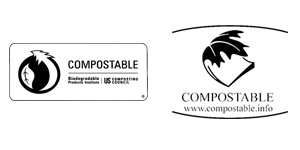 kitchen catcher and washing it out on a regular basis. If you prefer to use plastic bag liners, they must be certified compostable plastic bags. Look for one of these symbols:
Where can I purchase liner bags for my green bin or kitchen catcher?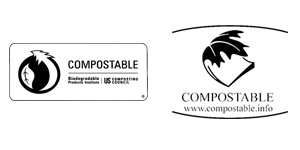 There are several retailers in the City of Belleville that have indicated that they will stock Certified Compostable liner bags. The BPI or COMPOSTABLE logo must be visible on certified compostable plastic bags.
How can I avoid maggots?
Maggots are fly larvae and occur when flies lay eggs on organic waste. They typically have a 7 day life cycle, depending on outside temperatures. Flies are most active between 20 – 25⁰C. To prevent maggots from occurring, prevent mature flies from laying eggs in the green bins and kitchen catchers. Try these best practices:
Freeze your meat scraps until pick up day
Wrap scraps in newspaper
Keep lids on bins securely latched at all times
Rinse your green bin with a mild detergent and water
How do I clean my green bin?
Using a solution of borax and water or vinegar and water is the best eco-choice for cleaning the bin. Remember to wash your green bin on your lawn to avoid direct run-off going into the storm drains.
Can dirty kleenex be added to the green bin?
Food soiled tissues can be disposed of in the green bin but tissues used for sanitary purposes cannot be added to the compost.
What about Halloween pumpkins?
How can we discard pumpkins:
Pumpkins should be left whole and placed beside the Green Bin for collection. Do not stuff in the Green Bin as it will be too heavy and not collected. The pumpkin cannot be giant, over 80 pounds.
Remember to remove any candles or non-organics.
Pumpkins can also be dropped off at the Leaf & Yard Depot at 75 Wallbridge Crescent.
About the Program
The City of Belleville's green bin organic waste recycling program began in 2013. The program is designed to help our environment by reducing the amount of waste that reaches our landfills.
By participating in the Organic Waste Recycling Program, you are fostering a greener environment. Organic materials added to soil improve plant health, conserve water, reduce erosion and reduce the use of fertilizers.
Helpful videos
Benefits of organics recycling
Organics are one of the largest components of the solid waste stream.
Organics recycling extends the life of landfills. Landfill tipping fees continue to rise as landfills become full and some more will close. Costs will continue to rise as land appropriate for landfills becomes difficult to find and more costly to construct.
Organics that end up in our landfills decompose without oxygen – creating methane – a potent greenhouse gas (20X more potent than carbon dioxide). Methane is an odorless and highly flammable gas that persists for years upon years.
Organics recycling reduces the need for chemical fertilizers, improves soils structure, moisture retention, reduces water loss.